Posted on
Wolf Point Class Of 2022 Celebrates Graduation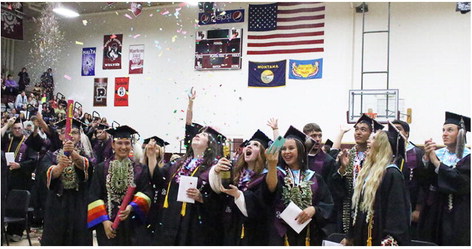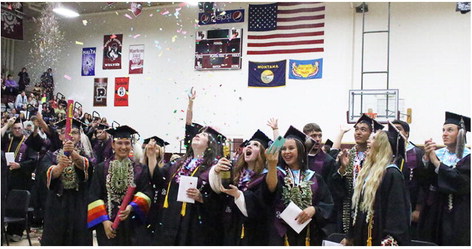 Families and friends packed the Wolf Point High School gymnasium as a class of 48 graduated from the school on Sunday, May 29.
Wolf Point High School principal Kim Hanks described the class as an amazing group of students.
"Each and every staff member is very proud of every one of you," Hanks told the graduates.
Valedictorian Josette Kolstad and salutatorian Hamyanie Campbell each provided positive messages.
Kolstad opened her speech by mentioning the Memorial Day weekend and remembering those who gave the ultimate sacrifice for their country.
She thanked fellow students and staff members for making her four years great at Wolf Point High School.
Kolstad noted students are starting a new journey and should use lessons learned, good or bad, to excel in the future.
"I'm so proud of every one of you," Kolstad said. "I couldn't be more proud to be a Wolf than I am today."
Campbell said she had dreams about being a speaker at graduation every since she was a young girl. She thanked her mother for pushing her in school and sports. She mentioned how guidance counselor Erin Loendorf helped her achieve success through dual credit courses. Campbell joked that she felt that she was also retiring as an "office lady" at the school.
She expressed thanks to current and past teachers. She mentioned some of her favorite sports memories.
"I will miss my teammates most of all," she said.
Campbell's advice to younger students is not to be afraid to try new things.
Providing honor student addresses were Daniel Sears and Jack Sprague.
Sears thanked staff for putting up with the class during the past four years.
"We weren't the best of students all the time," Sears said.
He described friends and family as the most valuable resources.
Sears wished the incoming senior class the best in trying to follow the Class of 2022's footsteps.
"Simply, your class will never be as cool as ours," he joked.
Sprague said he never felt like he was going to have a bad day at school because of the support from his peers. He noted how the students have matured and have set their own goals.
"I honestly think our class will be fine," Sprague said.
He mentioned the unlucky ones who didn't graduate with the class on Sunday.
"We continue on for them and those who couldn't be here," Sprague said.
He urged the graduates to keep working and take advantage of their opportunities.
Guidance counselor Erin Loendorf announced that more than 80 percent of the graduates earned dual credits while they were in high school. Students received more than $280,000 in scholarships.
The graduates included Aurora Adams, Tracel Adams, Jaxon Azure, Jaylee Azure, James Bear Eder, Jami Beston, Ethan Blount, Benjamin Boysun, Mercedes Budak, Danny Burshia, Hamyanie Campbell, Laykin Cantrell, Penny Comes Last, Alexandra Crawford Bleazard, Raven Damon, Shastin Damon, Dean Davis, Kaelyn Flynn, Alyssa Follet, Turqoyez Foote, Kamea Four Star, Abel Garfield, Mason Garfield, Breah Jackson, Claire Kinzie, Josette Kolstad, Joshlynn Lindsay, Alexander Mac-Donald, Angalena MacDonald, Jayme Martell, Christopher Miller, Shailyn Moccasin, Tia Nygard, Jace Peters, Brendan Peterson, Katrina Porras, Haidyn Raining Bird, Hunter Raining Bird, Clare Sansaver, Daniel Sears, Kholby Spotted Wolf, Jack Sprague, Ashley Taylor, Russell Turcotte, Cyntori Vallie, Emalee Vargas, Sarah Williamson and Devon Yellow Robe.