Posted on
Horsemanship Clinic Sees Increased Attendance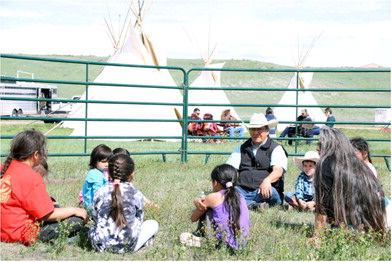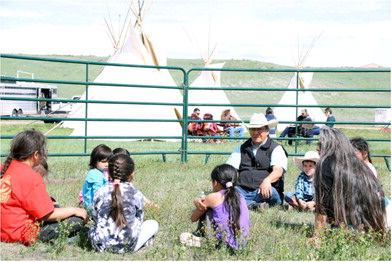 Spotted Bull Treatment Center, Fort Peck Community College and various groups sponsored a two-day horsemanship clinic and rodeo school May 27-28. It was held at the Poplar Rodeo Grounds. Ernie Bighorn told the Northern Plains Independent that he saw more families and kids at this year's Creator's Game event.
"I've seen most of the men," said Bighorn, "but this year we saw more families than ever before."
Organizers estimated that attendance was up by half. Bighorn said the focus of the event was to help introduce and reintroduce a relationship with horses to the people.
Instructors Leon Stewart, Jon Eagle Sr., Jessica Abatie
and Mattni Becker led groups in various types of horsemanship. A rodeo school was offered with options for little ones and the fully grown alike. First-timers were treated to an easy introduction to riding a horse with two days of safety and training. Additional experts and area residents were on hand to help with stock and event management.
On Saturday, the day began with emcee Tommy Christian explaining the significance of horses and horse culture. A prayer was offered and Bighorn shared some words before turning participants loose on various skill-building activities.
Talks were held on various topics. Saturday morning, adults participated in a discussion from the female perspective on the Dakota 38 + 2 Memorial Ride. The ride is a way to commemorate the largest single-day mass execution in U.S. history, when 38 Dakota men and two more were hanged in 1865 in the aftermath of the U.S.-Dakota War of 1862. There were also talks for students and families.
For more information about next year's event, visit the Creator's Game Facebook page or call Bighorn at 406-853-6631.