Posted on
Wolves Earn Fourth Place At Divisional Track Meet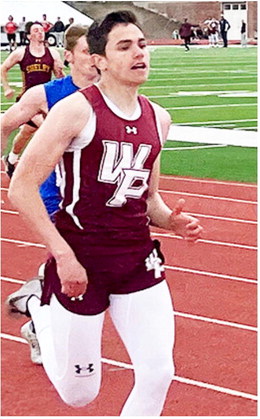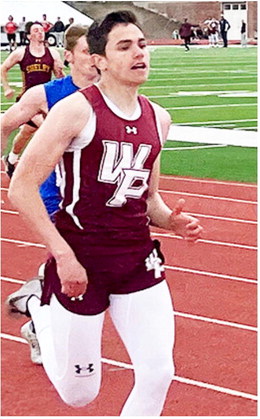 Wolf Point's boys' track team accounted for 73 points to earn fourth place at the North-East divisional track meet in Great Falls on Saturday, May 21.
The top three boys' teams were Glasgow with 82 points, Malta with 81 and Fairfield with 76.5 points.
The Wolves captured the top three spots in both the 1600 and 3200 meter runs.
Peyton Summers finished first in the 1600 at 4:40.68 and first in the 3200 at 10:05.23. Ethan Blount earned second in the 1600 at 4:40.70 and second in the 3200 at 10:19.02. Kholby SpottedWolf placed third in the 1600 at 4:47.92 and third in the 3200 at 10:20.59.
Summers, a sophomore, also placed second in the 800 with a time of 2:07.07.
Maddox Reum also enjoyed a solid meet for the Wolves. The sophomore earned second in the 200 at 23.68 seconds and fourth in the 100 at 11.83 seconds.
Kraven Silk, a junior, finished fifth in the 400 at 54.03 seconds and sixth in the 200 at 24.19 seconds Mason Garfield, a senior, earned sixth in the discus with a mark of 118-05.
Charlie Page, a sophomore, placed sixth in the shot put with a mark of 38-11.
The Lady Wolves scored 16 points for ninth place. The top three squads were Glasgow with 120.33 points, Malta with 107 and Conrad with 93.33 points.
Katelyn MacDonald led the way for Wolf Point's girls. The junior captured second place in the javelin with a mark of 114-01. She placed third in the shot put with a best of 32-7.
Kylie Rodenberg qualified for state in two events. The sophomore finished sixth in the 100-meter hurdles with a time of 18.69 seconds and placed sixth in the long jump at 14-5.
The Class B state track meet takes place on Friday, May 27, and Saturday, May 28, in Great Falls.