Posted on
Northside Band Entertains During Concert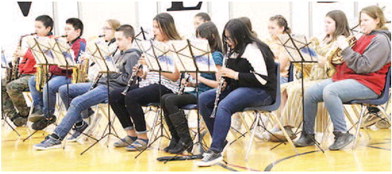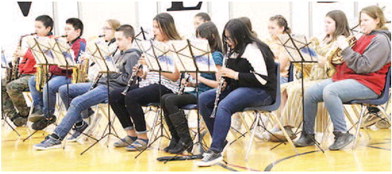 Northside Elementary School's band students highlighted their school year of learning with a concert on Tuesday, May 12.
Wolf Point music director Russell Johnson said the concert allowed the sixth-grade students a chance to gain more experience performing in front of people.
The band played "Marching Madness" and then performed "Shark Attack."
After that, the high school pep band entertained with two songs. Johnson said he wanted the elementary students to see one of the opportunities if they continue their musical interest throughout junior high and high school.
"So you can see one of the options you have for an elective next year," Johnson said to students.
The Northside band featured Mariah Blackwolf, Zachary Hilkemann and Ma'Kenzie Jackson on clarinets; Mattie Azure, Ta'Leigha Headdress and Rayden Smith on trumpets; Olivia Erickson, Cheyenne Jackson and Adalynn Smith on french horns; Dreyson Clark, Teagan DeMarrias, Jaycee Hilkemann and Chants Taylor for percussion; Michael Bad Hawk, Xavier Campbell, Cadence Bouldin and Clark Sison on alto saxophones; Randran Imus on baritone; and Jario Tumonong on bass guitar.