Posted on
Froid Ceremony Recognizes Four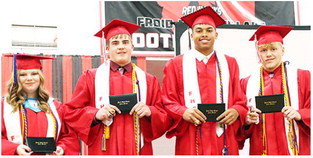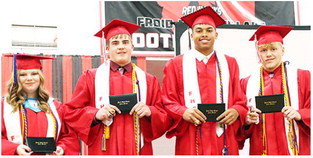 Froid High School graduated four seniors during a ceremony held in the new gym Saturday, May 21. The class of 2022 includes Abigail Strandlund, Brett Stentoft, Javonne Nesbit and Bode Miller.
The class of 2026 was also recognized, including Samantha Austin, Brielle Britton, Macie Elvsaas, Briar Grainger, Trinity Gregor, Vala Gregor, Briseida Guzman, Lilly Johnson, Owen Logan, Cody Olson, Wess Schneider and Annika Wolff.
Fanfare and processional were performed by the Froid School band. The welcome address was delivered by Brett Stentoft. The school choir performed and Bode Miller presented the 2026 graduates.
Salutatorian Bode Miller addressed the audience and his fellow graduates, Valedictorian Abigail Standlund was introduced by Javonne Nesbit. She also addressed the audience, thanking family and friends and sharing memories. Heather Mason was selected by the class to deliver the commencement address. Janessa Parenteau awarded the diplomas and pre- sented the Class of 2022. Strandlund thanked the audience for coming and invited them to partake in refreshments.
Class colors were red, black and white. The class flower was a white rose. The class motto: "We have peered into a new world and have seen that it is more mysterious and more complex than we had imagined," by Vera Rubin.