Posted on
Wolf Point School Board Position Open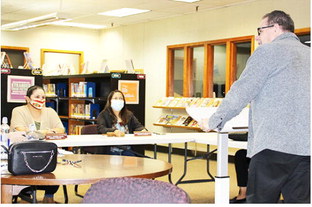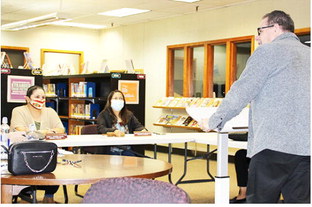 The Wolf Point School District is looking for a new school board trustee. On Oct. 5, the district received a written resignation from trustee Corey Reum. He resigned because he's becoming a bus driver for the district.
During the monthly meeting on Wednesday, Oct. 13, trustees approved the motion to declare the position vacant. By law, the board needs to appoint a replacement within 60 days.
School officials will advertise the position and the plan is for the board to approve the new trustee during a meeting in November. The person will hold the position until the May election. Superintendent Loverty Erickson said two individuals have expressed some interest in the position.
During her superintendent report, Erickson said the school district is in the process of hiring a resource officer who will work at the junior high/high school during the school day and when sporting events take place. Erickson said the position is desired because of the increased amount of vandalism at the school. The Fort Peck Tribes' Health Promotion Disease Prevention program will fund the position.
Erickson stressed that drivers for cold weather buses are needed.
Individuals hired included Agboola Aliu, Eileen Poserio and Leslie Larson for after-school tutoring, Carl John Pasoy for third-grade teacher starting in December, Reum as bus driver, Duane Goodtrack Sr. as assistant cook, Wayne Eagle Boy as assistant custodian, Maestro Martinez as high school wrestling assistant coach, Scott Vandall as junior high wrestling coach, David Hopson as junior high wrestling assistant coach, Trisetan Kemp and Slade Ruffing as volunteer assistant wrestling coaches and Jacob Boysun as speech and drama volunteer coach.
Trustees approved a pay increase to $18 an hour for activity bus drivers and $26 an hour for substitute bus drivers.
Southside principal Patrick Drapeau reported that enrollment at that school has increased from 242 students on the first day of school to the current figure of 278 students. A carnival is planned for Oct. 29 and plans are to bring turkey bingo back.
Northside principal Georgie Gourneau said Native American Week went very well. Teachers are working on reaching standards.
Junior high principal Greg Gourneau said attendance rates are 83 percent for seventh graders and 85 percent for eighth graders. Homecoming activities included decorating doors and hallways and making "mini floats."
High school principal Kim Hanks reported that students were very involved with Native American Week and homecoming week activities.
Trustee Lanette Clark said she was impressed when she visited Northside and Southside schools. She encouraged other trustees to visit all the schools.
Board chair Linda Hansen thanked staff and students for getting involved with Native American Week. She said she enjoys reading in the newspaper about the improvements being made by student athletes.