Posted on
The Tavern Receives First Dollar From Chamber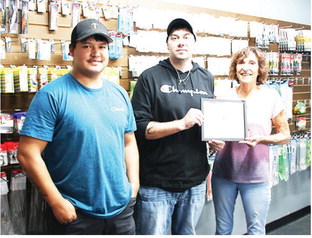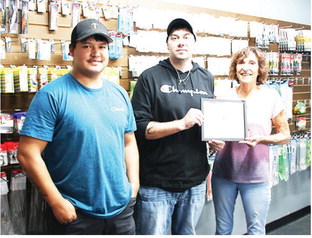 The Tavern (EC Sports) was presented with its "First Dollar" from the Wolf Point Chamber of Commerce and Agriculture on Monday, Sept. 13.
The business, located at 504 U.S. Highway 2, offers food items such as pizza, wings and nachos throughout the day starting at 8 a.m. As far as beverages, The Tavern provides a good variety of beers along with juices, soft drinks and twisted teas. The plan is to add more appetizers and specials in the future.
"Basically, we're trying to become a traditional sports bar," manager Jed Loucks said. The business is owned by Mike Hanks.
A golf course simulator is available that can be utilized by either paying an hourly fee or a yearly membership. Area residents have really enjoyed the program since The Tavern opened in June.
"When the golf course closes for the season and the weather changes, it will become more popular," Loucks said of the simulator.
The Tavern features five TVs and offers customers a chance to watch any NFL game they want through Sunday NFL Ticket. Plans are to broadcast Wolf Point games through the NFHS Network in the future.
Sporting items available to purchase include gear for hunting, fishing and camping. The business also offers will offer seasonal sports gear such as for football, basketball or baseball.
In addition, the business provides embroidery and heat pressed shirt services.