Posted on
Sacred Sun Farms Making Strides In Wolf Point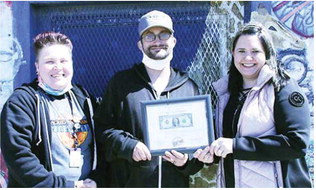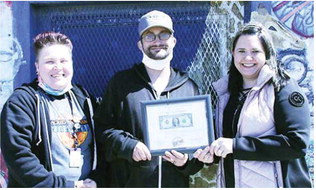 Sacred Sun Farms is one of the only clean green certified providers in Montana, and one of the organization's three stores is located on Third Avenue South in Wolf Point.
Other Montana locations are in Glendive and Bozeman. The company's co-founder and CEO is Antonette Lininger and the general manager is Joanna Barney.
"We are one of the only clean green certified operations in Montana," said Mike Lewis, Wolf Point manager. The store also features budtenders Jason Sullivan and Ashley Parsley.
The Wolf Point store was presented with its "First Dollar" award from the Wolf Point Chamber of Commerce last week. According to the company's website, "Sacred Sun Farms was born of four master cultivators with a deep passion for their environment, community and access to cannabis. The family has grown into a community of professionals providing Clean Green Certified medicinal cannabis, extractions and infused products to all patients of the Montana Medical Marijuana Program; in a safe, nurturing, positive and compliant environment."
Sacred Sun Farms offers a full line of CBD products for adults over the age of 18. Items include lotions and salves.
Popular items include pet treats for animals dealing with health challenges.
Lewis noted customers can order products on-line at www.sacredsunfarms. com, calling 406-624-6298 or in person. Stores hours are 10 a.m. to 6 p.m. Tuesdays through Saturdays.