Posted on
Wolf Point Boys Look Ahead To Conference Schedule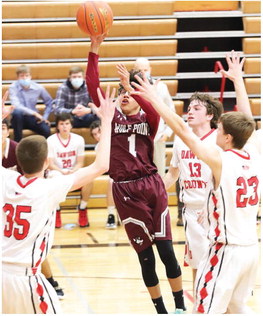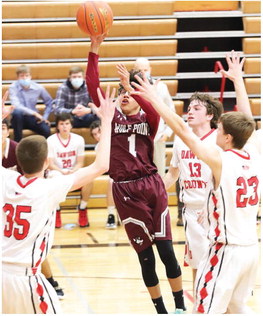 Wolf Point's boys' basketball team played close in the first half before falling in Glendive, 68-38, on Tuesday, Jan. 12.
The Wolves trailed by only a 12-7 margin in the first quarter and 24-17 at intermission. Glendive took control with 20 points in the third quarter and 24 more points in the fourth period.
"We're very inconsistent right now," Wolf Point Coach Troy Blount said.
Corey Martell led Wolf Point with 17 points.
"We're a young team," Blount said. "We lack experience and that's where the inconsistencies come into play."
Also scoring for the Wolves were Kelby Bauer with seven, Kraven Silk with four, Zander Ackerman with three and Antone Manning with three.
Glendive's top scorers were Michael Murphy with 19 and Max Eaton with 17 points.
The Wolves lost at Scobey by a 74-29 margin on Saturday, Jan. 16.
Scobey gained a 22-7 lead in the first quarter and increased the margin to 41-12 at the half. The Spartans outscored Wolf Point by a 20-12 margin in the third quarter.
The Wolves will travel to Poplar on Friday, Jan. 22, and host Malta on Saturday, Jan. 23.
"I'm very optimistic because we have guys that are buying into what we're doing," Blount said of the rest of the season.