Posted on
Lady Wolves Fall Short Against Glendive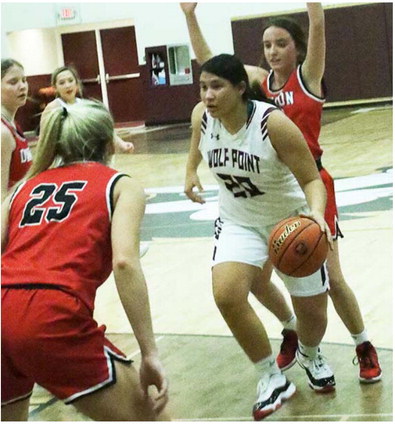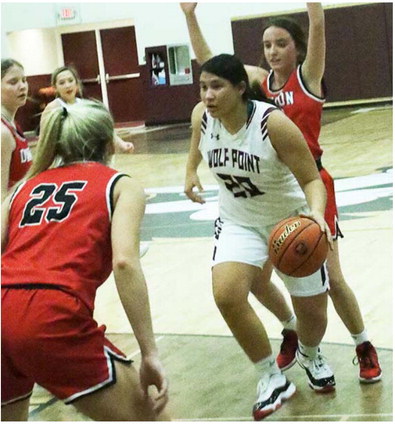 The Wolf Point Lady Wolves hustled throughout the contest but came up just short, 41-37, against Glendive at home on Tuesday, Jan. 12.
The shorter Wolf Point team, which provided a 100-percent effort, pulled to 36-34 on a Haidyn Raining Bird with 3:17 remaining in the contest.
Glendive moved ahead to 38-35 on a basket by Mallory Robinson, but a drive by Wolf Point's Josie Kolstad closed the margin to 38-37 with still 2:11 left.
Wolf Point's J'Elle Garfield then came up with a steal, but the Wolves were unable to score on that possession. After each squad failed on offensive possessions, Glendive's 5-10 Madison Wahl scored off a rebound with 25 seconds remaining.
Codi Nagle added a free throw for the 41-37 final.
Top scorers for the Wolves were Garfield and Kolstad with nine points each. Jaylee Azure added seven. Also scoring were Hamyanie Campbell with four, Sierra Hamilton with four, Raining Bird with three and Hailey Nelson with one.
Leading the Red Devils were Wahl with 17 and Jillian Litwiller with 16 points.
The scoring of Campbell kept the Wolves close in the first quarter. A free throw by Hamilton put Wolf Point ahead 8-7 to end the period.
Azure, a 5-7 junior, tallied five straight points midway into the second quarter to put the Wolves up 15-10. A coast-to-coast drive by Garfield produced a 17-12 margin.
Glendive accounted for the last three points of the half on a free toss by Robinson and a basket by Wahl to cut the gap to 17-15.
After the Red Devils moved ahead in the third quarter, the Wolves responded with a basket by Garfield and a free throw by Nelson. Three-pointers by Kolstad and Garfield put Wolf Point ahead 28-27 at the end of the period.
Glendive grabbed the lead when Lilwiller opened the fourth quarter with a three-pointer, but an inside hoop by Garifled produced a 30-30 deadlock.
The Red Devils accounted for six of the next eight points to take a 36-32 advantage midway into the final period.