Posted on
Wolf Point's Taiyon Lilley Graduates MYCA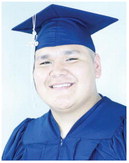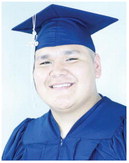 Taiyon Lilley of Wolf Point graduated from the Montana Youth Challenge Academy on June 27. On hand to witness the 69 youths of Class 42 receive their diplomas was keynote speaker Montana Attorney General Tim Fox, as well as Major General Matthew Quinn, Adjutant General for the State of Montana.
Lilley shared that going into the program he wasn't sure what he had gotten himself into; however, at the completion of the Academy, Lilley reflected on the friendships made and some of the skills learned like discipline and responsibility. During the course of the program Lilley earned honors in Academic Excellence and Honor Code.
The graduation ceremony for class 42 was held at the University of Montana Western's Vigilante Stadium in Dillon. This commencement looked different from previous ceremonies, with its outdoor location and social distancing measures in place, in order to meet recommended health guidelines related to the COVID-19 pandemic.
The residential program was temporarily suspended from March 28 through June 1, for the first time in its 21 year history, in order to reduce the risk of cadets and staff exposure to the Novel Coronavirus. However, the interruption did not deter the cadets of Challenge Class 42. 69 cadets returned to complete their initial mission and another 30 committed to re-enrolling in Class 43, which is scheduled to begin July 21.
The Montana Youth Challenge Academy, sponsored by the State of Montana and the Montana National Guard, is a preventive program for students at risk of not graduating high school. It is designed to improve life outcomes for its participants. The 22-week Residential Phase of Challenge increases opportunities through job skills training, service to the community, and leadership positions.
Graduates of the Residential Phase transition into the 12-month Post-Residential Phase by achieving placement in one of the following options: high school completion, higher education, employment, military enlistment, or volunteering at least 25 hours a week. Mentors, who have been matched with cadets during the Residential Phase, play a critical role in ensuring their continued success.
When asked what his greatest achievement was while at Challenge, Lilley shared, "putting a smile on my mama's face by finishing strong and graduating." Lilley's message to future program candidates is to"love yourself" and he assures that "things will get better." Lilley aspires to play college football at the University of Mary in Bismarck, N.D.
Class 43 begins July 21. For more information about the Challenge program to include enrollment opportunities, contact 406-683-7534 or visit their website at www.mycacademy. org.