Posted on
Franklin Ricker Sr.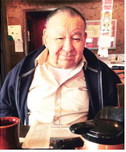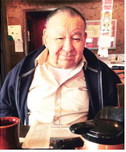 Franklin George Ricker Sr., Mni'owicakté, "Kills Him in the Water," born April 20, 1936, passed away peacefully at the age of 84 of kidney failure at the Hi-Line Retirement home in Malta, Mont., on July 7, 2020.
George was born to Theodore "Ted" Ricker and Mildred Dupree in Poplar. He was the youngest son and the last survivor of Ted Ricker's immediate family. He attended school in Poplar and Flandreau, S.D. George enlisted in the Army/Air Force on Oct. 5, 1954. He was stationed at Parks Air Force Base, Calif.; Guam; and Malmstrom Air Force Base in Great Falls, Mont. George was honorably discharged on Feb. 27, 1960, at Hamilton Air Force Base, Calif. He was an Airman Police with the rank of Airmen 2nd Class. He was honored to serve his country and always very proud to be a veteran. In 1989, he went to San Diego, Calif., to see his son William graduate from bootcamp and become a U.S. Marine. He was so happy and proud. While in the service, he met Bruce Hanson and they became lifelong friends.
Returning home from the service, George worked many jobs including roofing and the Tribe WPA Project. He worked for the Bureau of Indian Affairs Land Operations Department for 32 years. He was elected as Sergeant at Arms for the Fort Peck Tribes and served three terms. He retired in 1995.
George met Helen Youpee at the Oil Discovery Celebration in August 1963 and they were married Jan. 16, 1965, at Lindsey Church in Poplar, Mont. They were married for 55 years. They had two sons, George "Skay" Ricker Jr. and William Theodore Ricker, Jewel and Eugene Youpee also stayed with us.
George was given his great-great-grandfather's Indian name, Mni'owicakté "Kills Him in the Water," by his brother, Jiggs Ricker and nephew, Pat Owns Pipe-Ricker. George also received a pipe at this time.
He loved to hunt, fish and gather and prepare traditional foods of dry meat, corn, wild turnips and berries. Grandma Brushorn taught him how to cut dry meat and make pemmican. He always made sure we had some on hand in case of an emergency.
George is survived by his wife, Helen; son, William; grandchildren, Erin Jade, who took care of both of her grandparent's needs while they were hospitalized, Tamra, Marie Helen, Johnathan and Ethan; his precious great-granddaughter, Sophia Grace Ricker, the light of his life; cousins, Jack, Tom, Myra and Dorothy Dupree and families, Nancy Burshia and families; nephews, George (Porgie), George's name sake, Donald Jr. and Alfred Walking Eagle, Michael and Rodney Burshia; nieces, Patsy Two Bulls, Debbie and Junia Walking Eagle, Ann Burshia, Millie Salveson, Theda McCabe and families, Lydania Hagadone, Stacey Pipe, Denny Salveson and families; in-laws Dwight, Cary (Linda), Marvin (Renee), Josi (Rene), Lori Youpee and families, Larry Bussard, Marcella Red Thunder, Bruce Hanson, Vermae Taylor; adopted members, Albert "Greek" Culbertson, Joan Broomfield, Phyllis Pond-Culbertson, Albert (Buzz) Kay Roberts, Janet Culbertson and families. George has many, many more nephews, nieces, cousins and grandchildren. He cared deeply about them and loved them all.
George was preceded in death by his son, George "Skay" Ricker Jr.; grandson, Baby Skay Ricker; his parents, Ted and Mildred Ricker; brothers, Ted Jr., Harry and Sherman Ricker; sisters, Ida Walking Eagle, Catherine Walking Eagle, Faye Crowe, Delores Woods and Kathleen "Tiny" Ricker; nephews, Frances "Tom" and Dave Ricker; grandchildren, T.R. Salveson and Claytina Whiteman; inlaws, Williamette Youpee-Bussard, Allen, William, Danny, Florence and Gretchen Youpee.
George came from a large family and had a lot of happy memories of the good times he had as a young boy growing up. He will be greatly missed by his family and friends.
Visitation was held from 4 p.m. to 6 p.m. Tuesday, July 14, at the Clayton Stevenson Memorial Chapel in Wolf Point. A funeral service was held at 11 a.m. Wednesday, July 15, at the Clayton Stevenson Memorial Chapel in Wolf Point. Interment followed at the Poplar City Cemetery. Clayton Stevenson Memorial Chapel of Wolf Point has been entrusted with the arrangements.
(Paid Obituary)