Posted on
Rodeo Clown Rhoads To Fill In For Halstead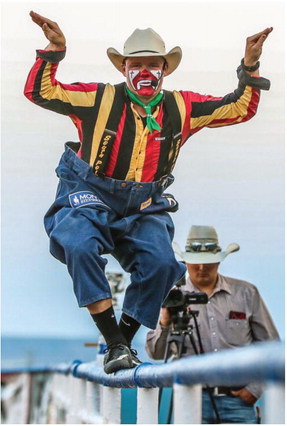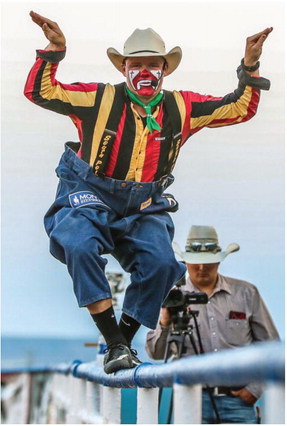 Rodeo clowns have many jobs in the arena and Tate Rhoads is one of the best at all of them. From making spectators laugh until they hurt to helping keep the cowboys safe, Rhoads excels at it all.
Rhoads graduated from Custer County High School in Miles City. He said he grew up with rodeos and became interested in fighting bulls around the time he turned 16. By 18, he had begun to focus on clowning.
Rhoads joined the PRCA at age 22 and has been making a career of it since that time. He has performed in California, Texas, Florida and other states, but said he mainly works in Montana, the Dakotas and the Midwest.
Rhoads has roots in Wolf Point. Great-grandfather Zeke and grandfather Rod lived in the area and father Tad attended school for a time in Wolf Point. Rhoads told the Northern Plains Independent that award-winning Canadian clown Dennis Halstead, who was originally scheduled to work the Wild Horse Stampede, called him in the weeks leading up to the event and told him he wouldn't be able to make the international border crossing.
"Denny is one of my best friends," said Rhoads. "He called me last week and told me he wasn't going to be able to come down and chase his dreams with the rest of us."
Rhoads said he was happy to fill in.
"I'm always ready to go," He said.
He said he'll be in Wolf Point by July 8 and looks forward to attending the Tough Enough To Wear Pink golf tournament at the Wolf Point Airport Golf Club Thursday, July 9.