Posted on
Elva May Knudsen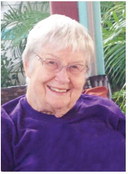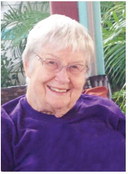 Elva May Knudsen, 85, of the Culbertson and McCabe, Mont., area, most recently of Breckenridge, Minn., passed away June 12, 2020, at the Twin Town Villa Assisted Living Center in Breckenridge.
Her funeral will be celebrated Friday morning, June 19, 2020, at 10:30 a.m. (Mountain Time) at Big Sky Church (American Baptist Church of the Brethren) Froid, Mont. Rev. Neil Knudsen will officiate and interment will follow in the Ebenezer Churchyard Cemetery, McCabe, Mont. Friends may call one hour before service time at the church on Friday. We will be following the CDC Guidelines for the Common Sense Social Distancing.
A second celebration of life service will be held on Wednesday afternoon, June 24, 2020, at 5 p.m. (Central Time) at the Harvest Outreach Church in Wahpeton, N.D. Rev. Dominick Warne will officiate.
Elva May Knudsen was born on Nov. 24, 1934, to Frank Thompson and Frances Winona (Moyer) Taylor in Trenton, N.J.
As a child and throughout her teen years, she took ballet and performed in many dance recitals. She was involved with Girl Scouts and earned her Gold Bar Scouts. She was active in youth activities through her church and served on local and state councils.
Elva May graduated from Columbia High School in Maplewood, N.J., in 1952. She worked part-time while attending college. In 1960, she graduated with a bachelor in Christian education from Northern Baptist Theological Seminary in Chicago, Ill. After college, she worked for the American Baptist Home Mission Society at Rankin Christian Centers, Philadelphia Neighborhood Centers & Friendship House Neighborhood Ministries in Billings, Mont.
While in Montana, she met Gerald Knudsen and they decided to marry on March 1, 1969, in Billings, Mont. He was a local farmer/rancher. They moved to the family farm near McCabe, Mont., which they later purchased. In 1971, their son, Mark, was born.
She was a stay-at-home mom, helped on the farm and took care of all the business aspects of the farm. After many years of farming, the couple purchased a small RV and began to take some small trips and found a new enjoyment, including fishing trips to Canada and a trip to Alaska.
She was a member of the McCabe Baptist Church and then the Big Sky Church of Froid, Mont. She taught Sunday school and served on many church boards locally, state and regional.
In 1998, after Gerald retired from farming, they moved off the farm and into Culbertson, Mont. Elva May worked with the local food bank for several years.
In 2013, she moved to Breckenridge, Minn., to be closer to her son and family. She enjoyed living in Minnesota and joined Harvest Outreach Church in Wahpeton, N.D. She was involved in many activities and her daily schedule was always full. She loved attending church and Bible studies, Red Hats, Music in the Park, sports activities, high school and college events and trips to the Chanhassen Dinner Theater.
The highlight of her life was serving the Lord and seeing her family become active in their Christian growth and ministry for the Lord.
Elva May is survived by her son, Mark (Melissa) Knudsen of Hazen, N.D.; two grandchildren, Dorran (Jenny) Knudsen of Seffner, Fla., Abreena Knudsen of Hazen, N.D.; two great-grandchildren, Kenrix and Reubin; and many nieces and nephews.
She was preceded in death by her husband, Gerald Knudsen; her parents, Frank and Frances Taylor; her brothers, Frank and R Bruce Taylor; and niece, Virginia Taylor.
Friends are welcome to visit www.eversoncoughlin. com to share memories of Elva or leave condolences for her family.
The Everson Coughlin Funeral Home of Williston is caring for the family.
(Paid Obituary)