Posted on
Fort Peck Tribes Offer COVID-19 Testing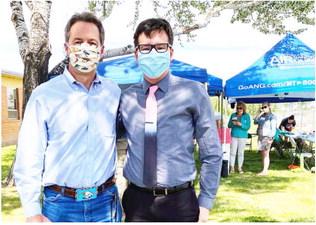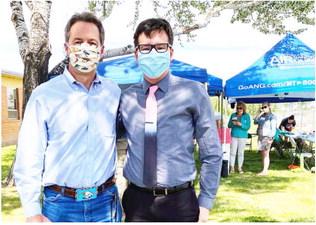 Governor Bullock Visits Poplar Site
The Fort Peck Tribes, Northeast Montana Health Services and the Montana National Guard offered COVID-19 testing at two locations last week. Tests were offered at Poplar Community Hospital June 3 and Trinity Hospital in Wolf Point June 4. All community members were welcome to participate. Local EMS crews canvassed the community for additional test takers. In all, 644 tests were administered.
Governor Steve Bullock arrived at the Poplar testing site June 3. Tribal Executive Board member Alexander Smith told the Northern Plains Independent that Bullock arrived with TEB chairman Floyd Azure. "Chairman Azure and I waked with the Governor to our Poplar IHS facility," said Smith. "We all walked through the whole building and took a trip to the construction site for the White Buffalo Clinic."
Smith said the Tribes honored Bullock with a star quilt and several songs.
TEB member Kaci Wallette invited community members to attend the testing in a social media post June 3.
"I will be out of the chambers the next two days so I can put my RN skills to use and help with this great service. Please come over to Poplar Hospital today starting at 11am if you want a free Covid swab test. Fill out your census while waiting and get a gift card," said Wallette.
In another post dated June 4, Wallette said, "357 COVID-19 Antigen tests were done today in Wolf Point. For a two day total of 644!! Thanks again to everyone who helped make this possible and volunteered their time and especially the ones who came and got tested. [...] It was fun in the trenches. We are discussing good dates to get to the outer communities. So Brockton & Frazer residents stay tuned."
The tests were administered via nose swab, but organizers were quick to point out that the technology isn't painful. TEB member Justin Gray Hawk Sr. said, "It is the nose swab but not the one that tickles your brain!"
Turnaround time on the tests is estimated to be from 10-14 days. Test takers were told to expect to be contacted with results but were encouraged to reach out if they haven't been called or emailed after approximately two weeks. Contact information was provided.
At press time, no new testing dates have been scheduled. Wallette said plans are in the works for more tests at the end of June.