Posted on
'Jackets Face Off Against Froid-Area Teams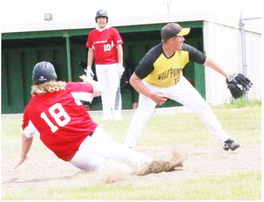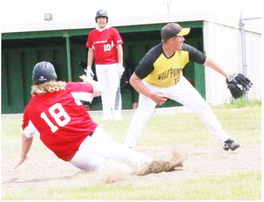 The Wolf Point Yellow Jackets' "A" team opened the season at Froid with 15-5 and 12-2 doubleheader losses to the Post 49 Bulls Saturday, May 30.
The "B" teams with younger and less experienced players split a twin bill on Wolf Point's Burkie Field Sunday, May 31, with the Yellow Jackets winning the first game 13-10 and the Agland A's winning the second game 20-16.
Yellow Jackets' "A" team head coach Aaron Snyder said the first game played in Froid wasn't good for the Yellow Jackets.
"We lost by 10 in both games, but we played a lot better the second game," he said.
"The first game of the year with pretty much a new coaching staff," Snyder said.
"Terry [Allmer] pitched a pretty darn good game," 'Jackets "A" team head coach Snyder said.
"They played real hard. I'm real proud," "B" head coach Anthony Red Dog said.
Wolf Point Baseball Association president Craig Smith said the "A" and "B" teams replace the American Legion Baseball (ages 15-18) and Babe Ruth League (ages 12-15) teams.
The Froid-based Bulls and Agland A's teams have players from Bainville, Culbertson, Froid, Medicine Lake, Plentywood and Sidney. Agland A's "B" team head coach Scott Crain said his program is also operating independently of Legion Baseball and Babe Ruth League, funding insurance and other expenses.
"We play what we call 'sandlot ball'," Crain said.