Posted on
Valedictorian Page Named DUI Task Force Scholarship Winner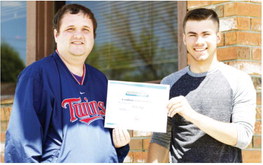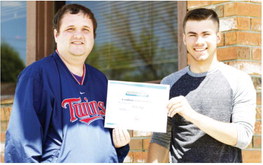 The scholarships, $500 each, are part of an essay contest. For the past two years, the writing prompt has included the following questions: "How do you live above the influence of these negative pressures in your life?" "How do you rise above peer pressure and set a positive example
Page Receives Scholarship
Wolf Point High School valedictorian Nick Page was the recipient of one of two scholarships awarded locally by the Roosevelt County DUI Task Force. He spoke to the Northern Plains Independent
at Old Town Grill May 22. Task force leader A.J. Allen was on hand to present Page with a certificate.
The task force offers the scholarships annually to help promote healthy and safe lifestyles.
for others?" And, "How do you keep others from affecting your decision NOT to drink and drive?"
In his essay, Page wrote: "Alcohol, drugs, driving impaired, using tobacco or nicotine, and even bullying are all negative aspects that we see everyday. These activities are very harmful and destructive but can be altogether avoided or limited one person or mindset at a time. Just one bad decision can lead to so much damage, although the right decision may be hard and let people down, it will only benefit you in the long run."
Froid High School's Kassidy Kjos received the other $500 scholarship award.
For more information about next year's contest, call Allen at 653-6212 or write to [email protected]