Posted on
Statewide COVID-19 Cases At 479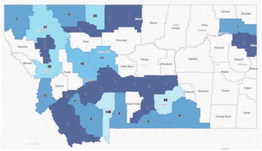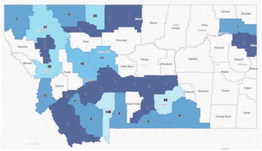 Only nine new COVID-19 cases were reported in Montana over the past week. The count now stands at 479, up eight from Tuesday, May 19, while North Dakota's case count increased by 463 to 2,457 in the past week.
Montana moves into phase 2 restrictions June 1. Groups larger than 50 will be allowed if people can social distance themselves. Restaurants, bars, breweries, distilleries and casinos can run at 75 percent of capacity. Gyms, indoor fitness classes, pools and hot tubs can operate at 75 percent of capacity. Bowling alleys can operate at decreased capacity with social distancing guidelines.
Mandatory quarantine for those visiting out of Montana will be lifted June 1. Bullock says he will consult with Yellowstone National Park about opening around June 1.
At presstime Tuesday, May 12, there were 479 confirmed cases of COVID-19 in Montana. Of those cases, 441 are listed as recovered and only 22 active cases. There have been 65 total hospitalizations, with three hospitalizations listed as active. There were no new deaths this week, with that count remaining at 16. Most are treating their symptoms at home.
As of 10 a.m. Tuesday, May 26, a total of 33,834 tests had been completed. Roosevelt County still sits at seven recovered COVID-19 cases.
At presstime, there have been 2,457 cases reported in North Dakota, with 1,551 individuals listed as recovered. In North Dakota, 154 have required hospitalization with 41 currently hospitalized. Deaths reported in North Dakota have risen to 54, up from 45 this time last week. Total tests completed is 66,350 with 63,893 returning negative.
In North Dakota, Williams County has reported 25 cases of COVID-19 on Tuesday morning, May 19, which is up four from May 19. Mountrail County has reported 39 cases, which is unchanged over the past week. Ward County has 54 reported cases, which is up 26 cases over the past week.
For up-to-date information on COVID-19 in Montana, go to dphhs.mt.gov. For North Dakota stats, visit https://www. health.nd.gov/diseases-conditions/ coronavirus/north-dakota- coronavirus-cases.
To read the full statement regarding phase 2 with appendices, visit docdroid.net/ pljRTUE/phase-two-directive- with-appendices-pdf.