Posted on
Seniors Honored At Frazer School Commencement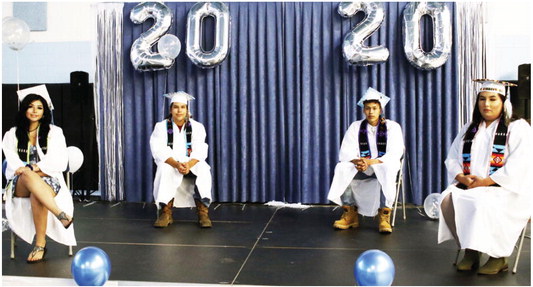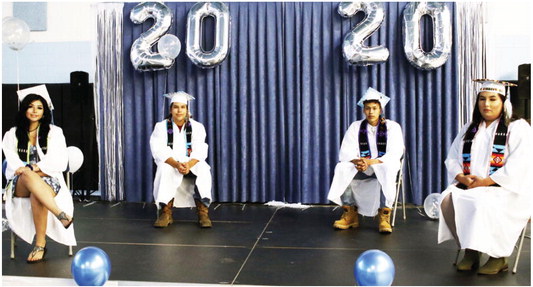 The Frazer School held its 2020 commencement ceremony at the school gymnasium Friday, May 22, at 6 p.m.
Social distancing was observed due to the COVID-19 pandemic. Attendance was limited and staff from the Fort Peck Tribes Health Promotion/ Disease Prevention Wellness Program took temperatures and offered hand sanitizer and masks at the door.
The four graduates were Dreona Leigh Beston, Kameron Dale Beston, Kayo Grant Jackson and Athena Runs Through. Dreona Beston was named valedictorian. Athena Runs Through and Kayo Jackson were co-salutatorians.
The welcome address was presented by principal Sonya Smoker-St. Marks. Kameron Beston gave the senior address and co-salutatorians Jackson and Runsthrough also spoke. Valedictorian Dreona Beston spoke as well.
Roger White presented the recognition of scholarships and superintendent Melanie Blount-Cole presented the Fort Peck Tribal Education Awards.
Lana Mikkelsen gave the Fort Peck Community College scholarship presentation. Business teacher Michelle Tade managed the slide show.
Roger White and the Chashushka drum group performed the honor song.
Class colors for 2020 are Bearcub blue, black and silver. The class flower is a white rose with Bearcub blue tips.
The class motto: "What lies behind and in front of us is small compared to what lies within us."
The Frazer board of trustees includes Yancey Beston, Michael Cole, Adeline "Rose" Smoke-White, Mary Sue Jackson and Jewel Ackerman- Fourstar. Senior class advisors were Tiana Smoker and Andrea Jackson.
A social distance senior parade through Frazer followed the event.