Posted on
Orvis Nelson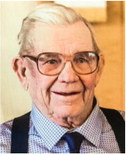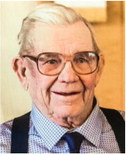 Orvis Nelson, 87, of rural Homestead, died at the Roosevelt Memorial Nursing Home Monday, May 18, 2020, in Culbertson.
He was born south of Watford City, N.D., to Eddie and Irene Nelson on Feb. 25, 1933. Just a few months after he was born, the family moved to rural Homestead. He attended most of his grade school at Central Consolidated, graduated high school from Medicine Lake and attended Concordia College for two years before entering the U.S. Army. He spent two years of active duty during the Korean Conflict and received an honorary discharge in 1953.
He farmed part-time with his father and worked fulltime in Williston, N.D., driving Gamble Robinson's grocery delivery truck delivering to stores in northeast Montana.
While working in Williston, he met Lois on a blind date. They were married in June 1958 and soon moved home to farm full-time. After her death in August 2019, he missed her dearly.
He was very proud of his service to this country and, once home on the farm for good, he became very active in Legion Post 49 in Homestead. As Post Commander, he organized many trips to the 49th Parallel Days with Canadian Service Men and Women.
He was the "Master Card Party Organizer" and there were many card parties and games of cards played.
Being involved in community was very important to him. He served as the chair of the Medicine Lake School board during the time the school was being rebuilt after a fire. He served on the NEMONT board for 27 years. Other organizations included the Froid Credit Union, Farmers Elevator in Homestead, Northeast Montana Threshers Association and church and parish councils. He also purchased bags of groceries and delivered them to families in need. He organized bus trips to the Medora Musical for the elderly. He was one of the first to offer his land into the Block Management Program. He never missed a benefit in the area where he always made some kind of donation, and he would go to the nursing home and give haircuts. He took pride in using his hands to build many beautiful woodworking projects which he donated to various places.
Being a Norwegian is not a privilege everyone gets. He was proud of his heritage and seldom missed the opportunity to attend the Norsk Hostfest in Minot, N.D.
The most enjoyable times in his life were visiting with people. He set up areas on the farm where hunters could camp just so he had someone to visit with. He would chase down hunters in the field to say hello and welcome them to the area. In later years, he and Lois loved to travel but could not go anywhere without scheduling time on the trip to stop and visit friends and family.
He never missed a concert or music event the children were in and sang in a group called the Homestead Legionnaires who performed at many area events, such as the Faye Crush variety show. They sang at countless funerals and never turned down a request to do so.
Some memorable trips included the trips to Moville, Iowa, to sell cattle. This was an annual event where he and some of his most cherished friends had the opportunity to spend time together.
He organized a fishing trip to Besnard Lake, Sask., 27 years in a row. He loved to see his children and grandchildren experience camping and catching big fish. All were welcome, so almost always the children or grandchildren had friends with them.
He was preceded in death by his wife, Lois; and brother, Rudale. He is survived by daughter, Kimberly; sons, Dale and Dean; five grandchildren; and two great-grandchildren.
His graveside service was held Saturday, May 23, at the Big Lake Cemetery, rural Homestead. Pastor Johnette Grefe officiated. Military rites followed. There will be a celebration of life tentatively set for June 28, at the family farm.