Posted on
Joseph Culbertson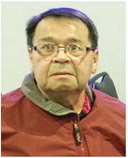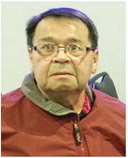 Joseph Pete "Doddie" Culbertson, 73, of Poplar died Saturday, April 4, 2020, at the Poplar Community Hospital.
He was born June 14, 1946, in Poplar, the sixth child born to Albert "Howard" Culbertson Sr. and Flora Culbertson (Gladue). He attended Poplar Schools throughout grade school.
He was a baseball player from the beginning. When he was very young, his coach wanted to send him to pro baseball camp, but his parents wouldn't agree to him going. He often wondered how his life would have been if he had been able to have that experience.
He went to high school at Immaculate Conception in Stephan, S.D., where he was active in basketball and football and baseball in the off season. He also became a golf enthusiast and enjoyed the game of golf. He graduated from high school in 1965.
He went on to drafting school in Denver, Colo. He joined the Army in 1966, and served as a MP, stationed in Turkey and Japan. After being discharged from the Army, he returned to Poplar.
He started working for C& M Construction. During that time, Alpheus Bighorn took him under his wing and taught him how to do plumbing. With a lot of hard work, he went on to open Culbertson Plumbing and Heating and get his master plumbing license. He was also in partnership with Doc Swanson, his father-in-law.
He married Charlene Swanson in 1980 in Las Vegas, Nev.
He traveled to many places for sport fun, Costa Rica and Canada to fish. He was an avid hunter. The family also took fun trips to many places, including Disneyland, Las Vegas and Hawaii.
His home was always open for family get togethers during holidays or other special occasions.
He is survived by his wife, Charlene; sons, Alexander J. 'AJ' and James J.; and two granddaughters. He was patiently awaiting the birth of his grandson. He is also survived by siblings, Albert "Greek" Culbertson Jr. of Littleton, Colo., Jackie Sandoval of Poplar, Sandra Albertson of Rapid City, S.D., and Carol Azure of Poplar.
Hee was preceded in death by granddaughter, Scarlett; and sisters, Louanne, Zelma and Gloreen.
A private graveside service was held Friday, April 10, at the Poplar City Cemetery. Clayton Stevenson Memorial Chapel was entrusted with the arrangements.