Posted on
Lucky Clovers Reach Out To Area Residents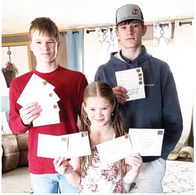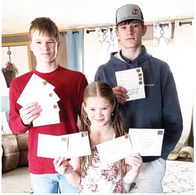 Valley County Extension agent Roubie Younkin told the Northern Plains Independent that members of the Lucky Clover 4-H club in Fort Peck and Nashua have been mailing cards to area residents who may be feeling the effects of social isolation.
According to Younkin, there are 18 members in the club. She said all 18 kids made cards. She doesn't know what messages they contained.
"I'm afraid to even think about it," joked Younkin. "The 4-H clubs were challenged to reach out to people in their community who were at home and perhaps getting lonely. I hope I get one!"
Younkin has extended the challenge to all area 4-H clubs.
Said Younkin, "My after-school kids are doing a Zoom meeting tomorrow afternoon and making cards for the Hinsdale community."
Younkin is the 4-H/family consumer science agent for Valley County. For more information, write to [email protected] or call 228-6241.
Lucky Laumeyers