Posted on
Countywide Closures Extended To April 24 Bullock Extends Order An Additional Two Weeks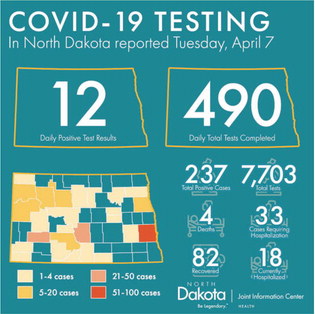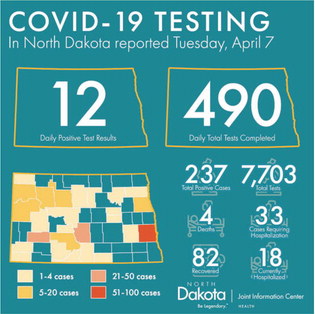 Montana Governor Steve Bullock has added an additional two-week extension to a recent stay-at-home order. Bullock also recommended Montanans wear cloth face masks when they're out in public places still open, such as grocery stores or pharmacies.
Bullock issued a "stay at home" order Thursday, March 26. The directive went into effect at 12:01 a.m. March 27 and remains in effect through April 10 with the exception of essential businesses and operations. Bullock's directive requires all businesses and operations in Montana, except for essential businesses and operations as defined in the directive, to cease activities. It also prohibits all public and private gatherings of any number of people occurring outside a household or place of residence. Essential services and businesses are exempted and will remain operational and open, but are required to comply with social distancing guidelines when possible, including maintaining six feet of distance people, having sanitizing products available and designating hours of operation specifically for vulnerable populations.
On April 7, the Roosevelt County Commissioners approved an extension of closures at county offices through April 24. County offices are closed but accessible by appointment.
The National Guard is screening travelers at Montana's major airports and some train stations, including Wolf Point. Beginning April 3, guardsmen have been performing temperature checks and asking screening questions of travelers coming from out of state.
Confirmed COVID-19 Cases
At presstime, there were 19 confirmed cases of COVID-19 in Montana, and 28 hospitalizations. Most are treating their symptoms at home. Fifty-seven cases have been classified as recovered. As of 10 a.m. Tuesday, April 7, a total of 6,985 tests had been completed.
Williams County in North Dakota has reported five cases of COVID-19 on Tuesday morning, April 7. Mountrail County has reported 20 cases. Ward County has 16 reported cases. At presstime, there have been 237 cases reported in North Dakota, with 82 individuals listed as recovered and 18 currently hospitalized.
Richland County
The Richland County Health Department was notified April 7 by the Montana State Public Health Laboratory of a positive case of COVID-19 in an individual residing in Richland County. The individual is a male in their 40's. The case investigation is ongoing. The case was tested at Sidney Health Center. In accordance with Federal law, the Department will not release any other identifying information about the positive case to protect the individual's personal privacy. The department is working with the individual to identify close contacts and provide recommendations to self-isolate based on guidance from the Centers for Disease Control. The Department will be calling the named contacts as soon as possible with instructions to help protect them and their families. Only those people who meet the definition of a close contact will receive calls. A contact to a positive case is considered to be a person with whom the case spent at least an hour in close contact, generally defined as 6 feet or less apart. These individuals may or may not be tested, but will be asked to isolate and monitor themselves for the development of symptoms.
Daniels County
The Daniels County health department is asking that all travelers or workers who are staying in Daniels County and have traveled through areas of confirmed COVID-19 and making Daniels County their temporary or permanent residence call the Health Department at 487-5560 and check in to let the health dept know you are here.
Fort Peck Community College FPCC has extended campus closure dates until Monday, April 6. Spring 2020 graduation ceremonies have been canceled.
Fort Peck Tribes
According to Fort Peck Tribal Councilman Jestin Dupree, all tribal individuals, not just employees of the Fort Peck Tribes, must adhere to the curfew which runs from 10 p.m. to 5 a.m.
Currently, any Fort Peck Tribes employee that is out on COVID-19-related paid leave that is seen out doing other than essential business will lose their paid leave for the entire pay period.
Also, under the latest directive from Tribal Chairman Floyd Azure, anyone who travels to an area where there is positive confirmation of COVID-19 must immediately self-quarantine for 14 days for the safety of not only our elders.
At presstime, Azure issued a statement reminding tribal members that punishments for spreading false rumors and misinformation about COVID-19 via word of mouth, advertising or social media may include a fine of $500 and possible jail time.
Nemont
Nemont has been in regular contact with area school districts in order to better understand their needs as they implement their distance learning plans due to the school shutdowns. As the schools work to implement their plans, Nemont is assisting them with internet access and devices. They are working on deploying additional Public WiFi. In their first wave of device deployments, Nemont distributed Chromebooks to Culbertson, Frazer, and Lustre Schools. They will continue to work with the schools to identify their respective needs and assist where they can.
TC Energy Valley County has ordered all new arrivals to self-quarantine for 14 days. The order will also apply to pipeline workers employed by TC Energy who have arrived starting March 26 and to all workers arriving until after the order expires.