Posted on
Patrick Forrest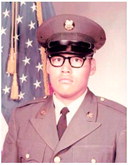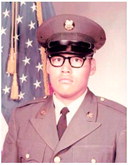 Patrick Keith Forrest, 62, died at his home in Wolf Point Thursday, March 12, 2020.
He was born April 10, 1957, to Bedford Patrick Forrest and Beatrice Joan Escarcega.
He worked at A& S Industries, Headstart and at the schools. He served in the Army and was stationed in Germany.
In his younger years, he traveled to pow-wows and danced.
He is survived by his brother, Loren Forrest of Wolf Point; and sisters, Valerie Forrest of Missoula, Jenni Forrest of Wichita, Kansas, Edna Forrest of Browning.
He was preceded in death by his brother, Beagar Radomski; and sisters, Janelle Murk, Laura Forrest and Rhonda Radomski.
The funeral was held Wednesday, March 18, at the Clayton Stevenson Memorial Chapel in Wolf Point. Interment was at King Memorial Cemetery in Wolf Point. Clayton Stevenson Memorial Chapel has been entrusted with the arrangements.