Posted on
Variety Store Chain Gets First Dollar, Dye Says Store Is Setting Records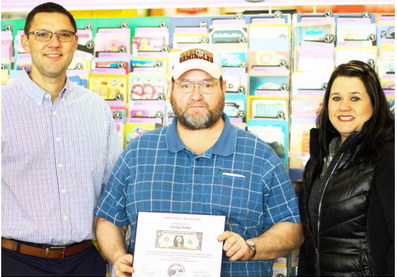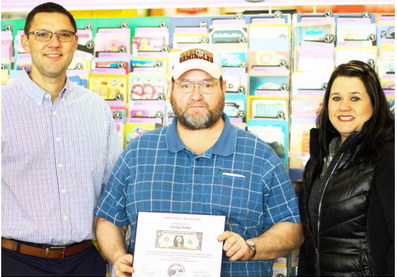 Vida's Jim Dye is the new manager for Family Dollar in Wolf Point. He accepted the Wolf Point Chamber of Commerce and Agriculture's First Dollar Award Monday, March 16, on behalf of the corporate chain store.
Dye received a certificate from chamber directors Aaron Kurokawa and Michelle Johnson.
Family Dollar opened in the old ShopKo location on the north side of U.S. Highway 2 in Wolf Point last month.
"We'll have these aisles cleaned up soon," said Dye, indicating piles of merchandise in the otherwise tidy store. Dye said trucks were stacking up with merchandise. Among other items currently in high demand across the nation, plenty of toilette paper was on offer Monday.
Family Dollar is headquartered in Charlotte, N.C. Dye told the Northern Plains Independent that the company's corporate partner, Dollar Tree, will likely open up in the space next door sometime this year. He indicated that a restaurant or food service provider may also join the two storefronts, space permitting.
"We've been told that we may get some kind of eatery if there's space left after Dollar Tree moves in," said Dye.
Dye said the location has been producing sales well beyond the expectations of ownership.
"This Family Dollar store has been among the top 10 stores in the country," said Dye.
He said the chain has beaten out sales from all the other 20 Family Dollar locations in Montana and many others around the nation.
Dye comes to the management position with plenty of experience working for Wal-Mart. He and wife Ronda also operate Oh-Yah Grocery in Vida.
Family Dollar store #12491 is located at 600 U.S. Hwy. 2 W. in Wolf Point. The store is open seven days a week from 9 a.m. to 10 p.m. Call 406-637-3300 for more information.