Posted on
Library Books For Uganda Cause Purple Hair For Frontier School Principal Hays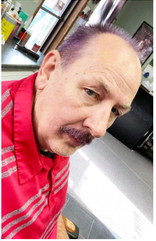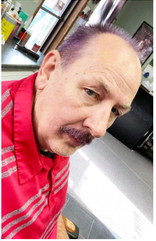 Frontier School principal Keith Hays is currently sporting purple hair. He's doing it for a cause.
Hays challenged Frontier School students to increase their totals during a recent fundraising campaign and he baited his challenge with a dare. The students raised enough money to purchase 1,000 books for a library in Uganda this year, but Hays challenged them to raise another $500 for shipping costs. To encourage them, the principal said he would dye his and mustache purple if they hit the mark. In response, the students raised double the requested amount, bringing in an additional $1,000, said Hays.
March 9 found Hays in a chair at Hairz 2 U in Wolf Point waiting for his color application.
Eighth-grade English language arts teacher Tina Strauser told the Northern Plains Independent that the project was inspired by a textbook.
"This project idea was inspired by a short story from Frontier's fourth-grade textbook, My Librarian
Purple Hays
is a Camel," said Strauser. "The book shows the students how in remote areas of the of the world, there are no library buildings."
Student Damian Deserly said he was skeptical at first, but now feels the project is working out well.
Said Deserly, "I really didn't think we would raise as much money and books as we did. I think the books are going to be good for the kids and their parents."
Strauser said the titles chosen for export were mainly for readers in a similar age range.
"We chose middle school books," said Strauser. "However, there are a few elementary books added."
Asked how students could impact literacy efforts here at home, where bookstores are few and far between, student Kaceelyn Fields said, "We could encourage people to use the public library more. The public library helped us also by donating books."
Anyone interested in contributing books or donations to the project can call Frontier School at 653-2501.