Posted on
Wolves Open Postseason Looking For A Big Outcome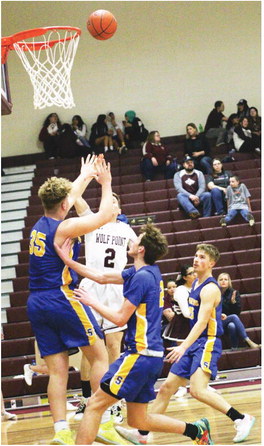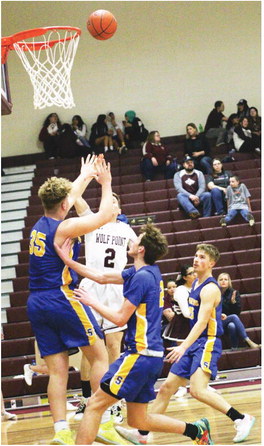 With an eight-year state tournament drought and nine years since Wolf Point has claimed a Class B state title, the Wolves have been playing like champions the last half of the basketball season and are looking for big things ahead.
Wolf Point won seven of their last eight games, only losing to Scobey in a non-conference tilt Saturday, Feb. 15. The Wolves have beaten each of the other District 2B teams since Jan. 24.
The Wolves (6-2, 10-8) will enter the District 2B tournament in Malta Friday, Feb. 21, solidly in second-place in the conference standings and the No. 2 tournament seed. The Wolves will open the tournament with No. 3 seed Malta (4-4, 11-9) at 4:30 p.m.
Harlem (7-1, 15-2) is the No. 1 seed. Poplar and Glasgow will face each other in a loser- out play-in game Thursday, Feb. 20, at 8 p.m. The winner of the play-in will be the No. 4 seed and will face Harlem Friday at 8 p.m.
All four teams remaining after the play-in will advance to the Northern B divisional, also in Malta Thursday through Saturday, Feb. 27-29. They will be playing for divisional seeding at the district tournament.
"We open up against Malta. We split with them this season," Wolves' head coach Troy Blount said.
on page 7 The last weekend of the regular-season schedule saw the Wolves beat the Scotties 79-55 in Glasgow Thursday, Feb. 13' and drop a non-conference tilt to Scobey 64-40 in the season finale in the Wolves' Den Saturday, Feb. 15.
Lance St. Germaine poured in 26 points in the Glasgow game, followed by Tade Wallette posting 15 points and Antone Manning registering 11. St. Germaine, Manning and Wallette combined for a total of nine three-balls from outside the arc, each drained three 3-point goals. Wallette registered a pair of 3-pointers in the Scobey game.
The Wolves' reservation rival Poplar Indians dropped the season finale to the 2B front runner in Harlem 101-53 Friday, Dec. 14. No stats were available.
The Indians (1-7, 3-14) finish schedule in fifth-place and facing the play-in game with Malta. The Indians played in the 2019 state tournament.
Wolf Point 70, Glasgow 55
Wolf Point 16 27 12 15—70 Glasgow 13 8 14 20—55
Scobey 64, Wolf Point 40
Wolf Point 11 10 14 5—40 Scobey 22 19 12 11—64
Harlem 101, Poplar 53