Posted on
Frederick, Berger Place At State For Poplar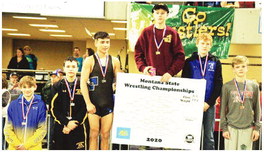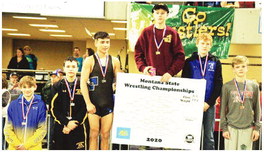 Poplar sophomore wrestlers Jase Frederick and Jacob Berger both placed again, this time at the State All-Class Wrestling Meet at the Metra in Billings Friday and Saturday, Feb. 14-15.
Frederick took fourth in the 113-pound weight class and Berger placed fourth at 205.
Also qualifying for the state meet from Poplar were: Mitchell Youngman, 132; Logan Boadle, 152; and Will Turcotte, 170.
Nine wrestlers finished the season with eight qualifying for the Eastern B/C Divisional at Huntley Project Saturday, Feb. 8.
Head coach Jason Frederick said the 2019-2020 season was a great year for Poplar High School wrestling.
Frederick expressed appreciation to his coaching staff, Jeff Berger, Morgan Norgaard, Chris Gorder, Zane Wofford, and Jeffrey Berger Jr. The assistant coaches stepped up and kept the Poplar wrestling program going during a time that Frederick was ill.