Posted on
Lady Wolves Pocket Overtime Win Over Sidney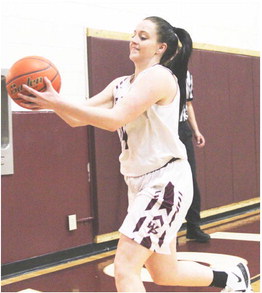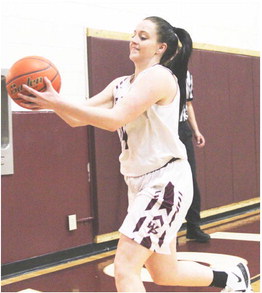 The Lady Wolves beat Class A Sidney in overtime at home Friday, Jan. 31.
The regular schedule of the basketball season is winding down for the defending state champion Lady Wolves with the District 2B tournament just two weeks away.
The graduation of six seniors in May 2019 who all played in the state title game has left head coach Brent Nybard and his coaching staff challenged with a young team.
The Lady Wolves (1-6, 5-9) have struggled with slow starts. One District 2B conference game remains at Glasgow Thursday, Feb. 13. Non-conference games scheduled are: Baker at Wolf Point, Saturday, Feb. 8; and Scobey at Wolf Point for the schedule finale and senior night, Saturday, Feb. 15.
The Lady Wolves dropped a conference game to Malta 56-29 in the Wolves' Den Thursday, Jan. 30, and beat Class A Sidney 62-57 in overtime also at home Friday, Jan. 31.
Wolf Point was missing head coach Brent Nygard and at least two players due to illness when they lost to Malta. Another was sidelined with an injury and a fourth was ineligible for other reasons.
Wolf Point came back in the Sidney game with Nygard and two of the players who could not play the previous day.
"We won by five in overtime," Nygard said. The loss of a key player during the fourth quarter complicated the close game with Sidney.
"Mya [Fourstar] fouled out with four minutes to go. We had some young players step up. Tori [Nygard], who was out Thursday, had 15 points and 14 rebounds against Sidney," Nygard said.
"We were 23-32 from the free throw line. I was really happy with our Sidney game. We battled hard and lots of players stepped up and gained some confidence," he said.
Beyond the regular season, every District 2B team will play in the District 2B tournament in Malta Thursday and Friday, Feb. 20-21. The Northern B girls' divisional tournament will be played in Shelby Thursday through Saturday, March 5-7. The Class B State Tournament will be in Butte Thursday through Saturday, March 12-14.
Wolf Point 60, Sidney 57 (OT) Sidney 9 10 20 13 5—57 Wolf Point 10 12 17 13 10—62 Malta 56, Wolf Point 29
Malta 15 10 13 18—56 Wolf Point 5 6 6 12—29