Posted on
Feb. 8; at Glasgow Feb. ….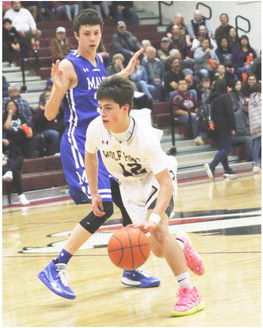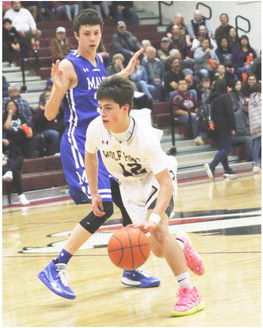 Feb. 8; at Glasgow Feb. 13 (the only remaining 2B conference game); and Scobey at Wolf Point for the schedule finale and senior night, Saturday, Feb. 15.
A strong third quarter powered the Wolves to a 6056 win of a conference game with Malta Thursday, Jan. 30, in the Wolves' Den. Coming out of halftime with the tally at 30-30, Wolf Point posted a 29-26 second half to secure sole possession of second place in District 2B.
Lance St. Germaine poured in a game-high 27 points. Nick Page posted 11 and Treyton Lilley scored 10. Tade Wallette recorded one three-pointer.
St. Germaine shot five for five from the free-throw line. The Wolves shot 80 percent from the free-throw line.
St. Germaine hit the target from outside the ark twice for a pair of 3-point goals.
Connor Tuss and Kooper Oxarart led Malta with 18 and 14 points. Oxarart had a pair of 3-point goals and Tuss had one.
The Wolves also beat Class A Sidney 51-46 in a non-conference game played in Sidney.
"My boys are coming together and finding ways to finish games now," Blount said.
"We are coming together and playing well at the right time. I'm so proud of them," he said. "Our hard work is paying off."
Post season play begins in two weeks with the Wolves the likely No. 2 seed at the District 2B tournament in Malta Thursday and Friday, Feb. 20 and 21. The Northern B boys' divisional tournament will be played in Malta Thursday through Saturday, Feb. 27-29. The Class B State Tournament will be in Butte Thursday through Saturday, March 12-14.
Wolf Point 60, Malta 56
Wolf Point 11 19 10 20—60 Malta 13 17 9 17—56 Wolf Point: St. Germaine 27, Page 11, Lilley 10, Wallette 7, Antone Manning 3, Michael Goodman 2.
Malta: Conner Tuss 18, Kooper Oxarart 14, Tanner Smith 8, Kanyon Stiles 6, Ben Costin 4, Pierce Mortenson 2.
Wolf Point 51, Sidney 46
Wolf Point 14 3 9 25—51 Sidney 12 9 14 11—46 Wolf Point: St. Germaine 19, James Lien 8, Page 5, Lilley 6, Wallette 9, Manning 4.
Sidney: C. McGlathlin 23, C. Johnson 5, B. Peters 2, J. Entz 8, R. Jackson 4, K. LeRoy 4.