Posted on
Elks Honor Community Members At Annual Banquet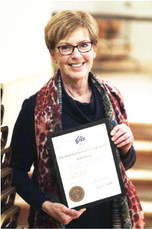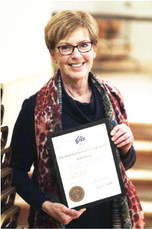 Highlighting the Wolf Point Elks Lodge #1764's annual fundraiser banquet this year was the organization's presentation of awards to outstanding community members.
Receiving the Citizen of the Year award was Barb Olson, who was recognized for her work with the youth of the community. Olson was instrumental in the organization of the Wolf Point Junior Optimist Club as well as the Bigger Sky Kids. She is a teacher at Northside Elementary School and also helps with the group that brings Montana Shakespeare in the Parks to Wolf Point each summer.
Paul Doney was presented with the Law Officer of the Year Award. Doney is an officer with the Fort Peck Tribes Department of Law and Justice. Fellow officers said that Doney is genuine in his efforts to ensure that crime victims get justice. "He is a great asset to the department, the community and throughout the reservation," one fellow officer noted.
Cam Burshia was given the Firemen of the Year Award. Burshia has served on the Wolf Point Volunteer Fire Department for just over a year. He is currently the safety officer. Burshia told the Northern Plains Independent that he was inspired to join the department by the examples of his aunt Jen Burshia and his father, Orval Burshia, both of whom were firefighters in different capacities. He said WPVFD member Dave Parsley invited him to join the department.
Rayna DeSocio was presented the lodge's Officer of the Year Award. DeSocio served for several years as Wolf Point's lodge secretary and has worked many hours in the lodge's most time-consuming position to ensure the success of the lodge.
Darla Downs was presented the Elk of the Year Award. This award is presented to an Elk member who is always willing to help. Elks exalted ruler Brad Traeholt said this year's banquet wouldn't have been possible without her participation.
Michael Goodman, a senior at Wolf Point High School, was presented with the lodge's scholarship this year. He will received $350 when he starts college in the fall to assist with expenses. He is the son of Tim and Renee Goodman.
The meal for this year's banquet was catered by the Optimist Club of Wolf Point and served by the Wolf Point Junior Optimist Club.
Following the presentation of awards, the fundraiser portion of the evening continued. This year's main drawings were won by Brandi Burshia, 22-250 rifle; Erik Johannessen, .38 Special revolver; and Gene Loendorf, 7mm-08 rifle.
Numerous businesses and individuals donated cash and merchandise which was instrumental in making the annual fundraising event a success for the group.