Posted on
Transition To Opportunity Bank Nearly Complete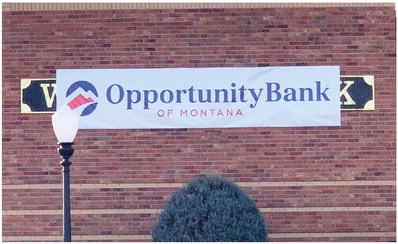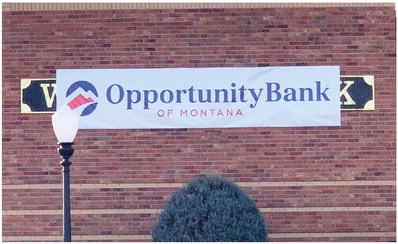 Longtime local banking institution Western Bank of Wolf Point has officially transitioned to Opportunity Bank.
The old Western Bank signage was replaced with a new Opportunity Bank sign in mid-January. According to vice president, IT officer and board secretary Cathy Wanderaas, the bank's transition was official as of the first of the year.
"The change was official on Jan. 1," said Wanderaas. "Our software conversion will happen in February."
Wanderaas said bank customers were mailed a booklet with answers to frequently asked questions. She confirmed that hours of operation will remain the same, as will many familiar faces at the bank.
"Opportunity will continue partnering with the Doornek and Kurokawa families to continue their successful banking histories in Hi-Line markets," said Eagle Bank of Montana president and CEO Peter J. Johnson in October.
With the addition of the Wolf Point branch, Opportunity currently has 22 branches in the state.
For more information, call 653-5500 or visit opportunitybank. com.