Posted on
Ice Yacht Race Concludes At Fort Peck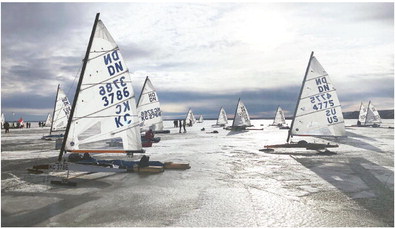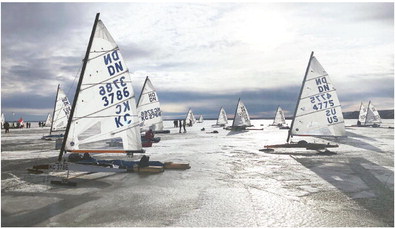 The IDNIYA 20 Twenty North American Ice Yacht Championship concluded Jan. 25 at Fort Peck Lake. In the Gold Fleet, James "T" Thieler from the senior division was ranked 1st, followed by the senior division's Ron Sherry. Chad Atkins, open division, Steve Orlebeke, open, Chris Berger, senior, and junior division member Griffin Sherry.
Peter Johnson, open division, was at the top of the Silver Fleet, followed by Andrew Allen, senior, Mike Miller, grand master, Patrick FitzGerald, grand master, Bill Buchholz, master, and Robert Cummins, grand master.
There were 61 entries overall, with four boats from Canada.
Glasgow photographer Sean R. Heavey told the Northern Plains Independent
that he has been invited to shoot the world championships somewhere in Europe in February. The race location will be determined as weather conditions permit.
"The invitation is on the table, but the challenge is I have to pay my way for last-minute travel to an unknown destination in northern Europe," said Heavey. A GoFundMe account has been set up to raise travel expenses. To contribute and/or view a drone video footage of the Fort Peck event, visit www. gofundme.com/f/2020-Ice-Sailing-World-Championships.