Posted on
Lesley Red Boy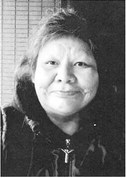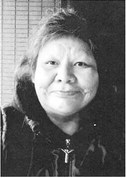 Lesley Adeline Red Boy, 55, died Jan. 5, 2020, in Billings at the Billings Clinic.
She was born on May 25, 1964, to Benjamin Fast Horse and Lorraine Red Boy. Her parents died early in her life, and she was raised by her grandmother Lela Red Boy. She attended boarding schools, graduating from Wahpeton, N.D., in 1978. She also attended Flandreau Indian School. She was the second to the oldest of seven children.
She liked to cruise around, listen to music, play dice and cards and loved going shopping for grandchildren. She had a sense of humor, teasing with family and friends, and loved to travel and going to bingo.
She had three children, Breon Lee Dupree, Wilhelmina Sue Red Boy and Eden Dawn Lone Bearl, and 10 grandchildren.
She is survived by her adopted parents, Karl and Jeanne Reinlasoder; her children; grandchildren; brothers, Adrian and Paul; and sister, Evangeline Vijlo.
She was preceded in death by her brothers, Melvyn and Allen; and baby sister, Leah.
A funeral service was held Friday, Jan. 10, at the new Community Hall in Wolf Point. Interment was at Riverside Presbyterian Cemetery. Clayton Stevenson Memorial Chapel was entrusted with the arrangements