Posted on
Wolf Point Man, Poplar Woman Win Lotto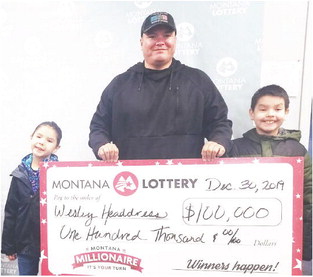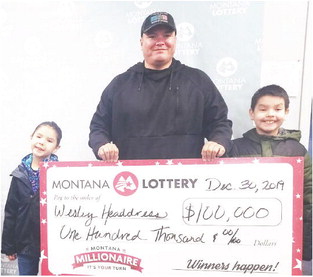 Wesley Headdress of Wolf Point was awarded $100,000 from the Montana Lottery Dec. 30. He accepted his winnings with children, Layla and Liam.
Headdress, who bought the winning Montana Millionaire ticket at Agland Co-op East in Wolf Point Dec. 27, said he had already invested some of the money.
"We bought a few vehicles," said Headdress. "My father had a 1979 Ford when I was younger. He passed away last January, so I honored him by getting one for my family."
Headdress said he was considering some charitable efforts locally.
"I'm also [going to] donate some to the children of Wolf Point," he said. "I've decided that I'm going to put on a little man/woman basketball tourney," said Headdress in a Jan. 7 social media post. "All grades will be co-ed. My dad never liked the fact of kids arguing, so this tournament is not [going to] be about competition. It's [going to] be about fun."
Headdress said he was an annual lotto player, if not an especially regular one.
"I play Montana Millionaire every year," he said. "Other than that, I'm usually only a ticket player when the jackpots get up there."
Trudy Bird of Poplar also bought a winning ticket Dec. 27. She picked up her ticket at TJ's Quick Stop in Poplar. Her winnings came to $100,000.