Posted on
Michelle Garfield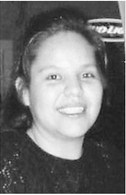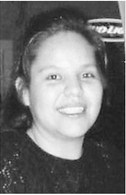 Michelle Lee LowDog Garfield, "Standing on Iron," 46, died Friday, Dec. 27, 2019, at Billings Clinic in Billings.
The daughter of Calvin Clark Jr. and Donna LowDog of Wolf Point, she was born July 22, 1973. She grew up in her hometown which held most of her happiest memories and greatest obstacles that she continued to fiercely battle.
She had a heart of gold that fit perfectly while being a CNA and waitress. She always had a good work ethic throughout her life. She made sure to keep her chidlren in good health, but God had other plans, she challenged her own way. Even though her choices shaped a troubled future, she kept a positive, strong-willed and humorous outlook that she shared with lucky individuals. Her hobbies include reading Stephen King novels, puzzles, Sudoku, board games with family, bingo, dancing and entertaining company by being the life of the party. She will be remembered for her humor and smile that changed lives.
She had 10 children — three boys and seven girls. Raising them fully wasn't in her favor or in God's plan for her, yet she accepted the hand she was dealt as life became rocky. She gave her all when it came to love. She spent her happier days with three important companions. They became her children's fathers. Eventually, she married Robert Garfield Jr. and widowed a couple years into it. She spent her last days with her brother Ryan Whitehorse in Wolf Point.
She lost her battle with alcoholism. The tough life she endured was fought with every ounce of self-taught strength, survival skills, selfless acts, determined outlooks and stubborn headedness.
She is survived by her father, Calvin Clark Jr.; sisters, Memorie Clark, Santee Clark, Echo Clark, Johnny Clark and Billie Jo Calder; brothers, Jay Clark, Bernie Whitehorse and Ryan Whitehorse; and children, Jasmine Birdsbill, Dawnee Birdsbill, Royce Birdsbill, Shai-lee Weeks, Jory LowDog, Doven Birdsbill, Shiary Birdsbill, Taven Garfield, Angelina Garfield and Robert Garfield Jr.
The funeral service was held Monday, Jan. 6, at the new Community Hall in Wolf Point. Interment was at Pony Hill Cemetery in Fort Belknap. Clayton Stevenson Memorial Chapel was entrusted with the arrangements.