Posted on
Eva Mae Larsen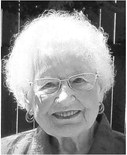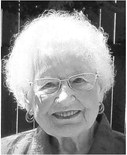 Eva Mae Larsen, 92, longtime resident of Culbertson, more recently of Salem, Ore., died Nov. 16, 2019.
She was born Feb. 4, 1927, in Velva, N.D., the eldest daughter of Orville and Edith (Mitchell) Coffin. She grew up on the family farm near Velva and graduated from Velva High School. She attended Minot State Teachers' College in Minot, N.D., earning a teaching certificate in 1946, fulfilling a dream she had since second grade. After teaching for two years in Wyndmere, N.D., in the fall of 1948 she took a teaching position in Culbertson where she met Allen Larsen. After a whirlwind romance, they married June 12, 1949.
In 1951, Marcia, Allen's daughter from a previous marriage, joined them and three more children, Connie, Roger and Duane, quickly followed to complete their family. She continued her teaching career while raising her children, which was a very progressive thing to do in the 1950s. She furthered her education, earning her bachelor's degree from Minot State College and her master's degree from Northern Montana College in Havre. She taught school for a total of 32 years, the last 15 as elementary principal in Culbertson, where she touched the lives of nearly every student who went through the Culbertson Schools from 1949 to 1983.
She and Allen spent the next 30-plus years doing what she loved most — traveling the world and spending time with their families.
She was a stalwart in many organizations, serving in leadership positions in the Theta Chapter of Delta Kappa Gamma, WELCA and the Roosevelt County Hospital board, as well as chairman of the Membership Drive for Community Concerts.
She was a gracious, sweet lady, with an ever-optimistic view of life, always ready to lend a hand, always dressed to the nines with beautiful red fingernails and boundless energy, who never missed an opportunity to be with her friends and family.
She is survived by daughters, Marcia Scharnweber of La Grange Park, Ill., and Connie Larsen of Salem, Ore.; sons, Roger Larsen of Huntington Beach, Calif., and Duane Larsen of Culbertson; 12 grandchildren; 10 great-grandchildren; and sister, Donna Bartsch of Minot, N.D.
She was preceded in death by her husband of 66 years, Allen.
She was cremated and a celebration of her life will be held in Culbertson next June.