Posted on
Lillian Tischmak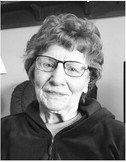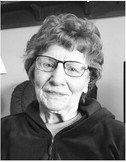 Lillian Lou Martin Tischmak, 84, of Billings, left us on Friday, Nov. 22, 2019, at St. John's Lutheran Nursing Home.
The eldest child of Dorothy and Iver Martin, Lillian was born in Glasgow on Dec. 13, 1934. Her childhood was spent on the family farm at Tampico that had been homesteaded by her grandparents, and this heritage was very dear to her.
Lillian married John Tischmak in Glasgow on Feb. 12, 1955. Their early life together involved construction work in the rural electrification program. They would move from site to site with a small mobile home pulled by the family sedan, eventually with several young children also in tow.
Lillian was a lifelong resident of northeast Montana and loved farm life. She was an active member of many community and youth organizations, including the Waukea Club, the VFW Auxiliary, Farmers Union and St. Anthony Parish in Culbertson. She was a 4-H leader for more than 30 years. She was especially proud of the Centennial Farm & Ranch Award presented by Farmers Union to the Martin family for 100 years of family farm ownership. An avid seamstress, Lillian also enjoyed family genealogy, gardening, cooking, and canning.
Lillian's survivors include her eight children, Patricia Hoover of Helena, Paula Schledewitz (Loren) of Culbertson, Dale Tischmak of Denver, Colo., Donna Mahoney (Tom) of Ashland, Ky., Suzanne Wirtz (Steve) of West Bend, Wis., Terry Tischmak of Salt Lake City, Utah, Robin Tischmak of Renton, Wash., and Marla Stremcha (Dan) of Helena. She has 25 grandchildren and a growing number of great-grandchildren. Also surviving are two brothers, Gary Martin (Sheila) of Tampico and Doug Martin (Shirley) of Hinsdale; and in-laws, Caroline Martin, Jack and Sharon Blotsky, Irene Blotsky, and Ted and Judy Blotsky.
Lillian was preceded in death by her husband, John; her parents; and two brothers, Lee (Ruth) and Larry Martin.
Cremation has taken place. Graveside services are planned for a later date at the North Dakota Veteran's Cemetery, Mandan, N.D. Condolences may be shared with the family by visiting www. michelottisawyers.com.
(Paid Obituary)