Posted on
Klara Bedard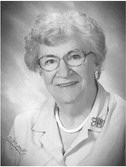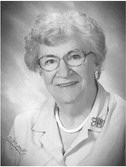 Klara Elgestad Coffey Bedard, 94, of Lewistown passed away of natural causes early Friday morning, Nov. 22, 2019, at her home, where she wanted to be. Although her presence will leave an emptiness for all those who loved her as well as those that knew her, she was ready to join all her loved ones in heaven. Be prepared, she is bringing her cards and will be ready to deal.
Kay was born Jan. 4, 1925, to Gustav and Esther (Skoe) Elgestad in the Madoc community. She graduated from Scobey High School and after one year of business college she went to work for Fairchild Air Force Base in Spokane, Wash. While in Spokane she was also the office manager at Cummins Diesel.
In 1952, she married Robert "Pete" Coffey in Wolf Point. He was the owner of KVCK Radio. Together, they raised four children: John, Cathryn, Patricia and Robert Jr. Pete passed away much too soon in 1972. In 1975, Kay moved to Whitefish Lake where the family has spent many summers. In 1988, she married Robert "Bob" Bedard. They spent much of their time traveling, visiting 49 countries and spending many winters in Hawaii.
Bob died in 2004, at which time Kay moved to Lewistown to be near family. Moving to Lewistown brought back many of her favorite pastimes. She could be found playing cards and bingo at the senior center as well as gathering with her many friends playing that mean game of pinochle. One of her favorite places was sitting on her deck in the sunshine among the birds and flowers. On occasion, you would see her at a Redbirds or Fergus Eagles game.
She was a member of St. Leo's Catholic Church and the Senior Citizens Club.
She is survived by her four children, John Coffey of Kalispell, Mont., Cathy Coffey Bartel of Lewistown, Mont., Patricia Coffey of Boise, Idaho, and Robert Coffey Jr. of Pullman, Wash.; one sister, Ellen Fossen of Flaxville, Mont.; four grandchildren, Monica Clinton, Willis Coffey, Kaine Coffey and Alex Whitsell; two great-grandsons, Jacob and Luke Clinton; and several nieces and nephews.
In addition to her two husbands, she was preceded in death by her parents, two brothers and four sisters.
Celebration of Life for Klara Bedard will be Saturday, Nov. 30, 2019, at 11 a.m. in the Cloyd Chapel. Cremation has taken place as per her wishes. The Cloyd Funeral Home is assisting the family. Friends are asked to make memorials to Hospice of Central Montana or the charity of their choice and they may be left with the Cloyd Funeral Home. Condolences for the family may be posted online at www. cloydfuneralhome.com.
(Paid Obituary)