Posted on
Raymond O'Brien Jr.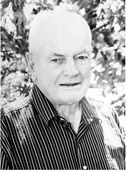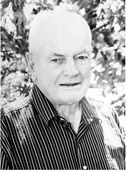 Raymond Roscoe O'Brien Jr. entered eternal life on Nov. 16, 2019, at home surrounded by family at the age of 94.
Raymond was born on June 19, 1925, the second of six children to Raymond and Amy (Martin) O'Brien, in Flaxville, Mont. He spent most of his life working the family farm with his brothers in the Mineral Bench community of northeastern Montana where the family raised wheat, American Quarter Horses,and cattle. He attended schools in Poplar, graduating from Poplar High School in 1943. He only left the farm to serve his country in the Navy during World War II.
On May 12, 1962, he was united in marriage to Saralou Leaphart in Poplar, Mont. They made their home in Poplar where they raised their children. They moved to Manhattan, Mont., in 2013 to live with their son after he retired from farming in his eighties. He enjoyed hunting trips in the Bob Marshal, fishing, and spending time visiting with his large extended family.
Raymond is survived by his wife, Saralou of Manhattan, Mont.; four children, Gary O'Brien of Fort Collins, Colo., Amy (Michael) Buckanaga of Bemidji, Minn., Dan (Sheila) O'Brien of Malta, Mont., and Douglas O'Brien of Manhattan, Mont.; seven grandchildren, Anthony (Elizabeth) Meisner, Derek, Trent and Erin Buckanaga, Keegan O'Brien, and Grant and Jillian O'Brien; two great-grandsons; sister-in-law, Patricia O'Brien of Billings, Mont.; and numerous nieces and nephews. He also had his Manhattan family: Steve and Katie Loessberg; Adam, Amanda and Pierce Priquette; Sue Whittaker; and friends from the Manhattan Senior Center.
He was preceded in death by his parents, Raymond and Amy; brothers, Stephen and Patrick O'Brien; and sisters, Lorraine Gatlin, Marianne Driemeyer and Irene Linthicum.
Funeral services will be at 12 p.m. Thursday, Nov. 21, 2019, at Holy Family Catholic Church in Three Forks, Mont. He will be laid to rest in the Poplar Cemetery in the summer of 2020.
Family would like to extend thanks to Home Instead Senior Care – Bozeman, Dr. Leslee Kane, Bozeman Health Belgrade Clinic, Frontier Home Health, and Hospice of Bozeman Health for the excellent care provided.
Condolences and memories may be shared with the family at www.dahlcares.com.
(Paid Obituary)