Posted on
Joshua Jackson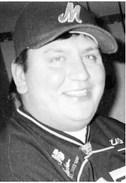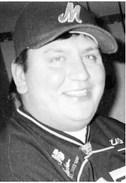 Joshua Joseph Jackson Sr., (Wasu to) "Blue Hail Stone", 47, died Oct. 25, 2019, in Wolf Point.
He was born in Wolf Point Sept. 16, 1972, to Lola Wetsit and Gerald Bootsie Jackson Sr. His childhood was spent growing up in Wolf Point and in the summer with his Grandma Ruth and Grandpa Pete, traveling to Canada to powwows and visiting relatives. On Sundays, he always made it to church and to Sherman after to eat with his grandma Laura. He attended schools in Wolf Point, Wahpeton, N.D., Chemawa in Salem, Ore., and eventually receiving his GED. In August 2017, he achieved getting his commercial driver's license.
He spent a few summers firefighting, bonding with his friends, traveling and making money.
In the fall of 1994, he met Kim and together they had five children. His oldest son was from a previous relationship, Christian "CJ" Hustad. He was proud of his children, loved attending their sporting events and was there for them no matter what they did.
"Big Josh," as known to most, was the nicest guy with a big heart. He was friends with everyone. If you happen to be one of the receivers of his knock-out punches, he would still have shaken your hand or hugged you after. He could never stay mad for very long.
One of his many courageous achievements was in April 2004 when he happened to be by the Amtrak station in Wolf Point and noticed a lady on the tracks. As the train approached, he ran over and pulled her from the oncoming path of the train, risking his life. He received the Montana Medal of Valor awarded to him by Gov. Brian Schwitzer on Feb, 13, 2006.
He is survived by his wife, Kim; children, Ryan, Amanda, Jayda, Kayden and Joshua Jr., all of Wolf Point, and "CJ" Christian Hustad who is attending MSU in Bozeman; father, Gerald "Bootsie" (Shirley) Jackson of Poplar; sisters, Ruth Williams of Wolf Point, Leighann Cochran of Helena, Leilani Reddoor of Poplar and Autumn Falcon of North Dakota; brothers, Victor Romero Sr., Gerald Jackson of Wolf Point and Ivan Whitford of Havre.
He was preceded in death by his sister, Laura Romero; and brother, Wade White Eagle.
Funeral services were held Friday, Nov. 1, at the new Community Hall in Wolf Point. Interment followed at Chelsea Cemetery. Clayton Stevenson Memorial Chapel was entrusted with arrangements.