Posted on
Red Hawks Earn Amazing Comeback Playoff Win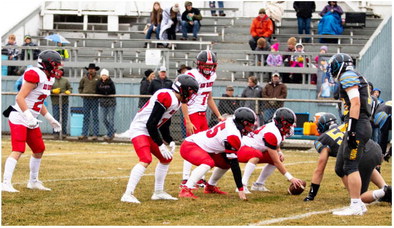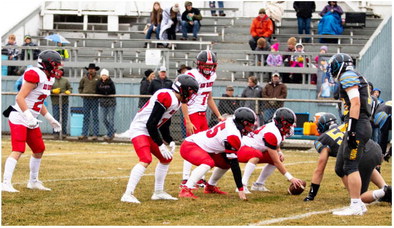 There are comebacks, and then there is what the Froid/ Lake football squad pulled off against Chester/Joplin/ Inverness on Saturday afternoon.
Considering the Red Hawks were down by 29 points, it was a state playoff game, they were facing an explosive offense and they were playing on the road, the outcome had all the ingredients of something truly memorable. In fact, it's a good prediction that Froid/Lake faithful will talk about the 79-75 quarter- final round victory for decades to come. The Red Hawks trailed by a 52-24 margin late in the first half when a defensive play helped Froid/Lake regain some confidence. Pressure on CJI's quarterback led to Jacob Martensen picking up a fumble and returning the ball for a 12-yard touchdown with 27 seconds left in the half. After a bad snap, Mason Dethman passed to Martensen for the conversion for a 52-31 half-time margin.
"I feel that was the biggest momentum changer," senior Nate Stentoft said of Martensen's touchdown.
Stentoft said the team was still pretty confident during the half-time break.
"Down 20, we had to keep our hopes up," Stentoft said. "Mason said something about no more talk about the next play, we have to do it now."
Dethman added, "We had to limit our mistakes. There was no time to waste."
The hometown Hawks, however, took the momentum right back on a 74-yard touchdown run to open the third quarter and put the score at 60-31.
On its first possession of the second half, Froid/Lake faced a third-and-28 situation back on its own two.
"It was a little discouraging," Dethman said of being backed up on their own two. "We have a high motored team. We were still giving 100 percent."
Dethman connected with Daniel Forizs for 26 yards. On fourth and two, Dethman battled for eight yards to the 36.
After two runs by Dethman put the ball inside CJI territory, Dethman hit Nate Stentoft for a 22-yard touchdown pass. Dethman's kick cut the gap to 60-39 with 6:48 left in the third quarter.
CJI responded by driving inside the Froid/Lake 30, but standout defensive plays by Stentoft, Owen Logan, Martensen and Dethman stopped the threat.
"We played timid in the first half," Stentoft said of the improved defensive play in the second half. "We became more aggressive and played downhill."
Dethman said defensive ends Owen Logan and Martensen really stepped up and played well in the contest.
Taking over on their own 29, the Red Hawks delivered some magic when Dethman's pass was deflected by two players. Forizs grabbed the ball out of the air at the CJI 27 and headed to the end zone for a 51-yard touchdown play with 2:45 left in the quarter. Dethman's kick closed the margin to 60-47.
Tackles by Cian Logan and Dethman then forced CJI to punt the ball back to the Red Hawks. Froid/Lake put together a 62-yard scoring drive for a 60-55 game with 8:45 remaining. After Dethman came through with crucial runs for first downs, the Red Hawks reached the end zone on a two-yard pass play from Joseph Robertson to Dethman.
A key third-down tackle by Stentoft forced CJI into a punt with under eight minutes remaining. Starting on their own 15, the Red Hawks earned a quick first down when Robertson caught a pass and made a great move for a 17-yard gain. A personal foul on CJI advanced the ball to the CJI 32. Dethman then broke tackles for a first down inside the 10.
On first down from the five, Forizs scored with 6:32 remaining in the high-scoring affair. Dethman's kick put the lead at 63-60.
The Hawks came right back though with a 42-yard drive that was capped with a six-yard touchdown dash with 5:04 remaining.
Down by a 67-63 margin, Froid/Lake kept battling to keep its season alive. A pass from Dethman to Robertson along with a penalty resulted in a first down at the 31. Dethman then took advantage of great downfield blocking by Stentoft to race 49 yards for a go-ahead touchdown. Dethman connected on the kick for a 71-67 lead with 4:34 left.
Dethman explained that once the Red Hawks were successful on several passing attempts, he found plenty of large running lanes.
"We have a team with a lot of speed. Their defense couldn't keep up with our offense," he said.
CJI displayed its character by driving 57 yards to go back ahead. A 33-yard touchdown pass put the Hawks ahead 7571 with only 2:24 remaining.
The Red Hawks wasted no time in going back ahead. With first down on their own 15, Dethman hit Forizs with a pass at the 30 and the speedy senior tailback went the distance. Dethman's kick was good for a 79-75 advantage with 2:11 left.
Did the Red Hawks leave too much time on the clock though for CJI's explosive offensive attack? "That was something going through my head," Dethman admitted. "We stepped up at the end."
CJI drove inside Froid/ Lake territory. An incomplete pass on a fourth-and-three play defended the Stentoft turned the ball over to Froid/ Lake with 1:18 left.
"I knew I had to beat him to the sticks and I did," Stentoft said of the fourth-down play. "I was pretty excited. Coach had to tell me to calm down."
Dethman noted, "Nate was on him perfectly."
From there, Froid/Lake ran out the clock for the incredible victory to the joy of the team's fans and parents.
"A lot of them said we almost gave them heart attacks," Stentoft said of fans' reactions.
Dethman thanks the fans and community. He describes them as the best traveling fans in the state.
"They stuck with us right through the game," Dethman said. He added that it was incredible the amount of noise that Froid/Lake's fans created down the stretch.
Froid/Lake will host Harlowton/ Ryegate/Judith Gap at 1 p.m. on Saturday, Nov. 11, for a playoff game. It's the fourth straight year that the Red Hawks have advanced in the state semi-final round.
"We know we have to play a lot better," Stentoft said.
"We just have to take it one game at a time," Dethman added.