Posted on
Lien Succeeds In Academic Offerings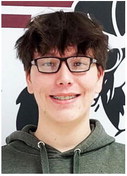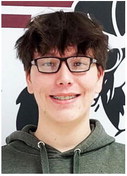 Wolf Point High School senior Jacob Lien is one of the local students who has increased their knowledge through the Montana Digital Academy, Lien explains that through the on-line instruction he has achieved success in courses such as physics, Spanish II, anatomy and physiology and computer science.
He said he was exposed to the program when guidance counselor Erin Loendorf recommended him as a good candidate.
He's online for two to three hours daily for the classes.
"It's a little more teaching yourself than being taught," Lien said of the instruction.
Outside of the classroom, Lien is part of Wolf Point's speech and drama program for the first time this year. He plans to compete in expository speaking.
"It seems like it would be more interesting than the other ones," Lien said of the category. "I'm not really into acting."
Although acting isn't his favorite thing to do, Lien is taking part in the school's play this month in a minor role.
"I think it's pretty funny," Lien said of the play.
His hobbies include drawing and video games. He enjoys taking art classes.
Other favorite classes include ones involving math.
His favorite teacher is Leslie Larson.
"She's nice and kind of funny," Lien said of Larson.
He has attended school in Wolf Point throughout his education.
"It's a nice small community. Everybody knows each other," he said.
He plans to study mechanical engineering and aerospace at Montana State University - Bozeman.
His career path might involve design engineering.