Posted on
Red Hawks Stop Shield Valley For Playoff Victory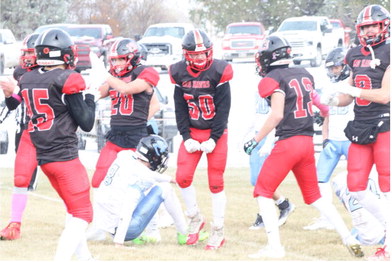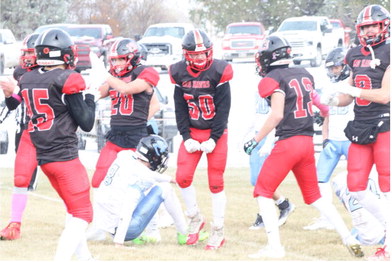 Sometimes, it's a team's offensive attack that is too much for an opponent to stop. But during playoff football action in Medicine Lake on Saturday, Shield Valley didn't have an answer to slow down Froid/Lake's defensive unit.
The Red Hawks dominated in the first quarter for a 48-0 lead and won the opening- round contest by a 72-8 final.
The visiting Rebels were stopped on their first offensive series due to strong defensive plays by Nate Stentoft and Mason Dethman. On Froid/Lake's first offensive play, Daniel Forizs gained 18 yards to the Shield Valley 22.
After Forizs picked up a first down at the 11, Dethman ran in for the game's opening score with 8:26 left in the first quarter.
Tackles by Landen Kelm and Jacob Martensen forced the Rebels in a third-and-11 situation. A pass attempt by the Rebels was intercepted by Dethman and returned 13 yards for a touchdown. Dethman's kick put the margin at 16-0.
A fumble recovery by Kelm set the Red Hawks up inside Shield Valley territory again. Forizs displayed great patience to find a hole and raced 39 yards for a touchdown with 6:43 remaining in the quarter.
Froid/Lake's defense continued to control action as a tackle by Martensen resulted in a safety at the 6:36 mark. On the ensuing kickoff, Forizs went 45 yards for a touchdown. Dethman's kick increased the gap to 34-0.
On Shield Valley's next possession, Stentoft returned an interception 27 yards for a touchdown and a 40-0 advantage.
The Red Hawks' final touchdown of the first quarter came on an 11-yard run by Kelm. Dethman's kick was good for a 48-0 lead in the game played in freezing temperatures.
Early in the second quarter, the Rebels came up short on a fourth-down run attempt because of a tackle by Joseph Robertson. On Froid/Lake's second play on the next drive, Kelm raced in from 16-yards out. Dethman's kick increased the gap to 56-0.
Kelm, a senior, scored on an 18-yard dash late in the half for a 64-0 margin at intermission.
The Red Hawks got into scoring position early in the third quarter on a 59-yard kickoff return by Roberto Orozco. The Red Hawks went to score when Orozco battled in from the one. Dethman's kick put the margin at 72-0 with 6:53 left in the third quarter.
The Rebels scored on a 42yard run by Ian Danielson to open the fourth period. Parker Pearce kicked the conversion for a 72-8 final.
Froid/Lake will travel to face Chester/Joplin/Inverness on Saturday, Nov. 4. CJI defeated Denton/Geysre/ Stanford/Geraldine, 55-8, on Saturday.