Posted on
Lady Wolves Fight Off Malta To Earn Divisional Berth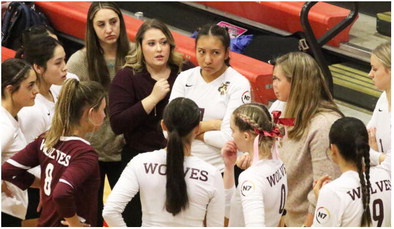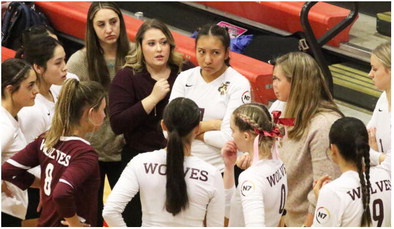 The Lady Wolves were in trouble, but they found a way to beat the Malta M'ettes on Friday, Oct. 27, to qualify for the divisional volleyball tournament.
Wolf Point battled back to defeat Malta by a 25-18, 16-25, 22-25, 26-24, 15-9 final.
Down 2-1 in sets, Wolf Point trailed 11-5 early in the fourth set. The Lady Wolves fought back to an 11-11 deadlock on a block by Kashlyn Speak Thunder, a kill by Gabrielle Fourbear and two aces by Azalei Ackerman.
After falling behind 19-17, a kill by Sierra Hamilton and an ace by Kaleah Miller-Toves produced a 19-19 game. The Lady Wolves moved ahead 2120 on a spike by Speak Thunder, but Malta then gained a 23-21 advantage.
The Lady Wolves answered the call with clutch plays as Fourbear scored two kills and Keeley Blount-Henderson added another for a 24-23 lead. With the score at 25-24, Wolf Point ended the fourth set on an ace by Kylie Rodenberg.
Kills by Miller-Toves and a smash by Hamilton led the Lady Wolves to a 5-4 lead in the fifth and deciding set. Wolf Point increased the gap to 9-4 on a tip by Hamilton, an ace by Blount-Henderson and a kill by Miller-Toves.
After Malta pulled to 9-6, the Lady Wolves struck for three straight points on a block by Speak Thunder, a kill by Hamilton and an ace by Miller-Toves.
Ahead by a 12-9 margin, the Lady Wolves accounted for the final three points on a kill by Hamilton, a block by Speak Thunder and an ace by Hamilton.
Wolf Point opened the match with a 25-18 victory in the first set. The Lady Wolves earned a 12-3 lead on a pair of aces by Ackerman and a block by Hamilton. A great save by Kylie Rodenberg put the score at 16-11.
Malta kept the set close, but a kill by Hamilton and aces by Ackerman increased the margin to 22-16. With the score at 22-18, Wolf Point struck for the last three points of the set on a kill by Fourbear, a serve by Miller- Toves and a block by Rodenberg.
The M'ettes jumped out to a 19-11 advantage in the second set and earned a 25-16 win.
Kills by Blount-Henderson and Hamilton kept the Wolves close at 22-18 in the third set, but Malta increased the gap to 24-21.
After a kill by Blount-Henderson, Malta scored for a 2522 final to end the third set.
Rodenberg finished the match with 22 assists.
Hamilton led Wolf Point's attack with 14 kills. Speak Thunder finished with three blocks.
Ackerman had six aces and 42 digs.