Posted on
Cowgirls Defeat MonDak Squad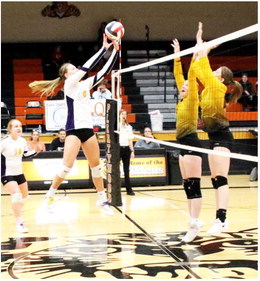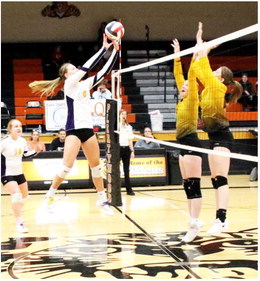 The Culbertson Cowgirls kept their season alive by downing MonDak, 25-16, 25-23, 25-23, during the District 1C volleyball tourney in Plentywood.
Kills by Jazzmin Fugere and the serving of Mariana Burciaga highlighted play as the Cowgirls earned a 17-8 lead in the first set. A tip by Destiny Thompson and a kill by Burciaga increased the gap to 20-10.
The strong serving of Ayden Ator and Thompson put the margin at 22-13. The Cowgirls won the last two points of the set on kills by Burciaga and Fugere.
Culbertson grabbed a 13-9 advantage in the second set on net plays by Ator and Thompson. Kills by Thompson and Burciaga were good for a 17-12 margin. Ivy Colvin served an ace to put the lead at 20-13.
Culbertson held onto the lead on a spike by Leandra Perkins, but MonDak battled back to pull to 24-22. Culbertson won the set on a tip by Thompson.
The Cowgirls trailed early in the third set, but the serving of Colvin tied the score at 12-12. Culbertson moved ahead on the net play of Perkins and Thompson.
Culbertson gained a 2321 advantage on an ace by Thompson and earned a 2523 victory.