Posted on
Bainville Falls In Close Match Against Scobey At 1C Tourney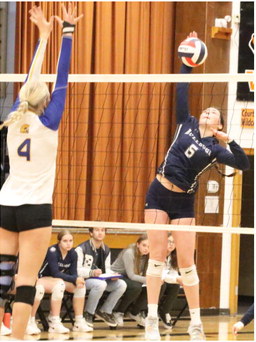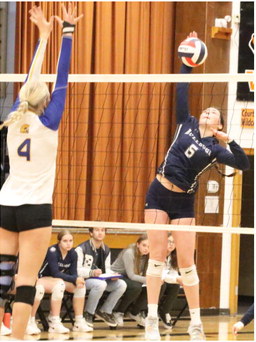 The Bainville Bulldogs put up a great fight but fell to Scobey, 23-25, 19-25, 25-18, 23-25, in a match to decide a divisional berth during the district tournament in Plentywood on Saturday.
The Bulldogs fell behind 20-12 in the first set, but aces by Lila Butikofer and strong net play by Brecklyn Pippenger led Bainville's comeback. Kills by Elsie Wilson pulled the Bulldogs as close as 23-22.
A kill by Hailey Berwick kept the Bulldogs alive at 2423, but Scobey ended the set on a tip by Mady Willis.
The Spartans scored the final four points of the second set for a 25-21 victory.
The Bulldogs bounced back in the third set and gained a 14-6 lead. The net play of B. Pippenger along with the serving of Butikofer and Siena Martinez highlighted the action.
Kills by Berwick and an ace by Wilson increased Bainville's lead to 21-9.
After Scobey closed the margin to 23-18, the Bulldogs ended the set with a kill by Berwick and an ace by B. Pippenger.
The Bulldogs trailed by a 16-12 margin in the fourth set but kept battling. A kill by Miah Pippenger and two aces by Butikofer pulled Bainville to 16-15. A tip by M. Pippenger tied the score at 16-16.
After a kill by Wilson put the game at 20-20, Scobey went ahead 22-20 on the net play of Cambrie Holum.
Kills by Berwick and M. Pippenger kept the pressure on the Spartans, but Scobey won by the 25-23 final.