Posted on
Montana Cowboy Hall of Fame Announces 2024 Inductees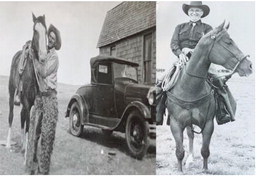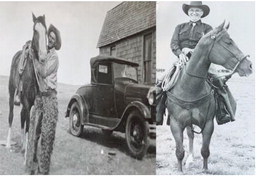 The Montana Cowboy Hall of Fame & Western Heritage Center has announced their 16th class of inductions into the Montana Cowboy Hall of Fame. The inductees were chosen from a field of candidates nominated by the general public. Inductees are honored for their notable contributions to the history and culture of Montana.
"The Hall of Fame exists to honor those who have made an impact in their part of the state and represent Montana's authentic Western heritage for future generations," said DuWayne Wilson, MCHF president. "Our volunteer trustees around Montana vote on nominations that come from the district in which they reside. This process gives the local communities a strong voice in who will represent them in the Montana Cowboy Hall of Fame".
The MCHF board of directors has designated 12 trustee districts across the state from which up to 20 trustees may be appointed. Nomination criteria established by the board for the Class of 2024 inductions allowed the election of one Living Inductee and one Legacy Inductee from each of the 12 districts.
District 1 (Daniels, Phillips, Roosevelt, Sheridan and Valley counties): Living: Henry "Gary" Danelson of Scobey; Legacy: David C Funk of Frazer.
Danelson Henry "Gary" Danelson was born on Aug. 28, 1937, to Henry and Hazel (Graff) Danelson. Both Henry and Hazel were descendants of early settlers in the Scobey area. Gary was raised on a farm and ranch north of Scobey and graduated from Scobey schools in 1955. Gary's father, Henry, was not only a successful farmer and rancher, but also a respected trainer of thoroughbred racehorses. Gary grew up helping his dad around the track, becoming a riding jockey at the age of 14. One of Gary's first challenges was to ride Visuvanne, his father's thoroughbred mare. Visuvanne's first race was in Wolf Point. Gary and Henry tried to put her in the starting gate, but Visuvanne came out bucking. To remedy the situation, Gary rode in a stock saddle. After losing the race, they switched to a jockey saddle and went on to win the next five races.
Throughout his high school years, Gary learned from his dad by helping around the barn and galloping horses during the training process. They traveled to races throughout Montana, Washington, Oregon and Canada. After high school, Gray attended college in Havre, with aspirations of becoming a lawyer. While in school, Gary found himself back on the track helping local trainer Harry Howard. In 1956, Gary traveled to Kentucky with Harry where he purchased Coherence for $400. This gelding kicked off Gary's training career. During the next four years, Coherence won 24 races, holding the most winning record of any horse Gary had trained. Gary had tasted success and made the decision to focus on racing rather than returning to college.
Assiniboia Downs in Winnipeg, Manitoba, has been Gary's summer home since 1959. The day after his 22nd birthday, Gary celebrated his first win as a trainer at that track. Since then, he has missed only four race seasons, when choosing to run races in the United States and missing the 2020-2021 seasons due to COVID restrictions. Gary tied for the honor of Assiniboia Downs Trainer of the Year in 1969 and in 1970. He was awarded the title outright in 2003.
On May 26, 2001, Gray became the all-time leading trainer at Assiniboia Downs with a breathtaking 880 lifetime wins. In August of 2004, he reached the milestone of 1,000 wins. In August of 2017, at the age of 79, Gary hit the 1,200 win landmark and continues to grow that number each year. As of this writing, Gary at the age of 85 holds an impressive record of 1,246 wins.
David C. Funk was born on Nov. 10, 1910, in Biggar, Saskatchewan, Canada. In 1916, his parents moved to the Fort Peck Indian Reservation in northeast Montana, which had previously opened up acreage deemed surplus to homesteading in 1913. The family settled on land 24 miles north of Frazer. David began his primary education at South Fork. Unfortunately, by the fourth grade, his natural skills of working with horses made him more useful around the homestead than in the classroom, therefore ending his primary education. By 14 years old, Dave was breaking green colts and commanding a wagon pulled by a 4-up, consisting of two teams, hauling coal from The Cottonwood area north of the home place or hauling grain to Oswego. At age 18, he took his uncanny handiness with horses and signed on at the sprawling Hugo Johnson Ranch, 17 miles north of Oswego for $5 a month. Dave became a top hand on this cattle outfit.
The country north of the Missouri River was still open range during these years and cattle ranches needed good ranch horses for all their cowboys. Their work was year-round to keep cattle from drifting too far into other ranches' territory. Dave's job was to ride "the rough string" and keep the cowboys mounted on useable horses. Several times, Dave, together with other cowboys, helped gather bunches of loose horses, which were mostly wild, and some farm horses that had strayed away from homesteaders. More than once, while topping off broncs, he recognized a brand on a horse that belonged to a neighboring farmer and on his own time, would return the horse to its thankful owner.
Dave worked a brief time on the construction of the Fort Peck Dam. Even though this was not his preferred work, he was often found helping the teamsters, who were driving teams of mules and pulling wagons of fill dirt. Many a frustrated teamster would call for Dave's help to get an unruly mule to obey. Dave took numerous trips as a "cowpoke" on cattle trains transporting cattle shipped by rail from Wolf Point to Sioux City, Iowa.
His job was to "poke" the cattle, from above, which had fallen down in the boxcar, in order to get them to stand back up. At times he was required to crawl into a car packed with the cattle to get them on their feet again. This was an extremely dangerous endeavor.
Dave became well-known for his horse breaking and training in both Roosevelt and Valley counties. He was often asked to help at area cattle brandings.
Anyone needing a stud castrated, would call Dave Funk. When he was younger, his good friend, Dick Strachan, of Wolf Point, was raising a lot of good, registered Quarter Horses. Dave bought many Strachan colts which he raised and later trained.
He became well-known for trading and selling good horses - once topping a horse sale at the Glasgow saleyard with a young stud he had trained. Dave enjoyed helping any beginner cowboy or cowgirl who was trying to learn the ropes of horsemanship. Dave hauled U.S. mail to the Lustre community from Frazer by horseback or sled for a number of years. This job had the benefit of being able to break and train horses while delivering the mail as that 30-mile ride to Lustre certainly took the buck out of any unbroke horse. Dave was an outgoing and talkative person. When people would come to their rural mailbox to pick up their mail, Dave would get to know them by taking a minute or two to engage in conversation. On one occasion a man came by, riding a horse that Dave recognized as a horse he had been missing for six months. Needless to say, the horse was restored to Dave on the spot!
Dave was fortunate enough to have had the pleasure of riding horses until he was 88 years of age. Many near and far gave their condolences when Dave passed away just a few days before his 92nd birthday.
Other hall of fame selections include: District 2 (Dawson, Garfield, McCone, Prairie, Richland and Wibaux counties): Living: Harold Lee Isaacs of Jordan; Legacy: Donald Goodman "Don" Holt of Sidney.
District 3 (Carter, Custer, Fallon, Powder River, Rosebud and Treasure counties): Living: Wayne M. Morford of Miles City; Legacy: Miles City Bucking Horse Sale of Miles City.
District 4 (Blaine, Chouteau, Hill and Liberty counties): Living: Leon LaSalle of Laredo; Legacy: Clarence Basil Cuts The Rope of Hays.
District 5 (Cascade, Glacier, Pondera, Teton and Toole counties): Living: Alvin "Dutch" Lunak & Stuntmen of Blackfeet Country of Valier; Legacy: Joe DeYong of Great Falls.
District 6 (Fergus, Golden Valley, Judith Basin, Musselshell, Petroleum and Wheatland counties): Living: Durl J. Gibbs of Buffalo; Legacy: Donald Elton "Don" Abarr of Grass Range District 7 (Big Horn, Carbon, Stillwater, Sweet Grass and Yellowstone counties): Living: Lynn "Jonnie" Jonckowski of Billings; Legacy: Elmer E. "Slim" Kobold of Kirby.
District 8 (Broadwater, Jefferson and Lewis and Clark counties): Living: Lenore McKelvey Puhek of Helena; Legacy: Paul B. Hart of Helena.
District 9 (Gallatin, Meagher and Park counties): Living: Delbert & Janice High of Bozeman; Legacy: Raymond P. "Ray" Ansotegui of Livingston.
District 10 (Flathead, Lake, Lincoln and Sanders counties): Living: Betty Mae Wemple Schall of Arlee; Legacy: Alvin Merritt of Pablo.
District 11: (Mineral, Missoula and Ravalli counties): Living: Paul Zarzyski of Missoula; Legacy: William E. "Bill" Mytty of Lolo.
District 12: (Deer Lodge, Beaverhead, Silver Bow, Granite, Madison and Powell counties): Living: Walter Elroy "Walt" Shaw of Cardwell; Legacy: John William "Pat" McDonald of Philipsburg.
The MCHF & WHC plans to honor these inductees during the MCHF Annual Induction Ceremony & Western Heritage Gathering Feb. 10, 2024, in Great Falls at the Heritage Inn.