Posted on
Candidates Share Views During Forum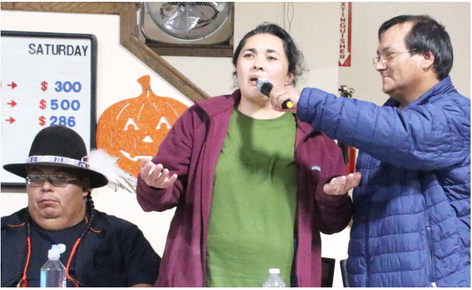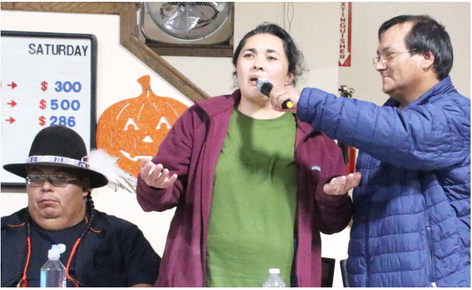 Tribal Election
More than 30 candidates attended a Fort Peck tribal candidates' forum hosted by the Wolf Point Community Organization on Wednesday, Oct. 18.
Election day is Saturday, Oct. 28, to vote for chairman, vice chairman, sergeant at arms, chief judge, associated judges and 12 tribal executive board positions.
Seeking the office of chairmen are incumbent Floyd Azure, John Morales, Barry Bighorn Sr. and Justin Gray Hawk Sr. Bighorn was the only one of the four who attended WPCO's candidates' forum.
Bighorn said he appreciates the current administration, but he has enjoyed listening to great ideas from new candidates. He has confidence regardless which candidates are elected. He spoke about how families are the foundation of the community. He noted the importance of being a technology leader and food sovereignty.
Bighorn said establishing a recreation cultural department to engage youth is important. He is glad that the work day program is going well.
Candidates for vice chair are incumbent Charles Headdress and executive board member Patricia "Patt" Iron Cloud. Headdress didn't attend the event. Iron Cloud said she is pleased with the amount of women seeking offices. "Our men need the gentleness in there," Iron Cloud said. She noted her history of lobbying for improved health services and BIA roads.
Sergeant of arms candidates are incumbent Bruce "Cubby" Damon and JoLynne Bad Hawk. Damon didn't attend the forum. Bad Hawk said she would appreciate being the first female sergeant of arms for Fort Peck Tribes.
Stacie Smith Fourstar is running unopposed for chief judge. Michael Headdress and Marvin Youpee Jr. are up for associate judge. Both Fourstar and Headdress spoke during the forum.
TEB candidates speaking at the forum included Don LaRoque, Stacey Summers, Carolyn Bighorn-Brugh, Jestin Dupree, Bryce Kirk, Lawrence Hamilton, Francine Boxer, Michael "Mike" Doney, Garrett Big Leggins, Angela Matthews, Tatum Evenson, Charles "Chug" Knowlton, Melissa "Melton" Buckles, Perry Lilley, Vernette "Susie" Perry, Mary Follette, Michael Littlebull, Dylan Rain Youpee, Ona Vee Windchief, Rita Weeks, Kristofer Four Star, Delonna Youngman, Benjamin "BJ" Johnson, Jason Gray Hawk, Marva Chapman, Rick Kirn, Georgia Gibbs-Atkinson and Sandi Hamilton-Azure. Roxanne Gourneau didn't speak as a candidate, but she facilitated the night as WPCO's chair.
Each candidate was given three minutes to share their views at the forum. Among the repeated topics included economic development, security, food sovereignty and working together.
One of the issues discussed during the question and answer segment was renewal of the gaming compact. Kirk explained that the class 2 gaming agreement is being prepared by the State for the tribes' attorney to review. "It's important that we keep it the same for now," Kirk said.
He noted that gaming on the reservation raised $266,000 more in revenue than the previous year. WPCO uses gaming revenue to help fund youth activities and assist Fort Peck's elders.
"I've been a strong supporter of WPCO to keep what we have," Kirk said.
Comments were also made during the question and answer session regarding the importance of maintaining cultural heritage. A possible future referendum was mentioned.