Posted on
Schwinden Described As Great Montanan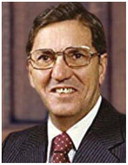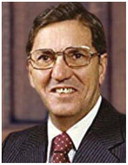 Editorials
Ted Schwinden was a great man.
In 1980, I was serving as director of the State Department of Administration under Gov. Tom Judge. I had worked with Lt. Gov. Schwinden on a couple of projects and found him to be very easy to work with because he knew state government inside and out. He had served for many years in the Legislature and then served as director of the State Lands Department before he was elected lieutenant governor with Judge.
One day, I became aware that Ted was flying around the state attending county central committee meetings. I asked one of the old-timers why he would ever do that. I was informed that he was probably going to challenge Judge in the primary for the Governor's race in 1980.
That eventually came to pass and all of the Judge administration directors were called together in the governor's mansion and asked to declared their loyalty to the Governor. A couple of the guys had long relationships with Schwinden and said that is where they would be during the primary. I had been promoted to director by Judge, based on a recommendation from Jack Crosser, the retiring director. Jack was Forest Anderson's brother in law. Gov. Judge told me that Jack had told him I was perfect for the job because I was too dumb to steal. I had no political connections so when asked who I would support in the primary, I figured I better stick with the guy who had appointed me, so I swore allegiance to Tom Judge.
After Ted won the primary, I told my wife that we better plan on looking for work in November. The morning after the November election, she came running out to where I was feeding my cows and said Schwinden had just called and wanted me to come up to his house on Broadway.
I hurriedly showered and drove up to the house. Jean Schwinden was making chocolate chip cookies and Francis Bardenouve and Larry Fasbender were drinking coffee with Ted. I thought something was up because I had worked a lot with Francis during my career in the budget office. The first words out of Ted's mouth were, have a cookie and I want you to be my budget director. I believe my first words were, "Governor, you know, I am looking for work. Honored to have the opportunity to serve you."
That was the first moment of eight years of working for Ted. I considered it equivalent to an advanced degree in economics and politics. His instincts were so good that I soaked up the experience like a sponge. His only caution to me was to tell me he was sure that I was the only Republican in his administration and please keep quiet about it.
Knowing him and working for him was a gift. Rest in peace Ted. You were a great Montanan.